Madame Tussauds Berlin, A-List Zone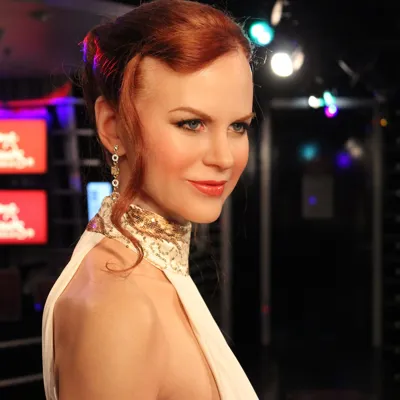 Most important information about the Hollywood-Beauty
Nicole Mary Kidman was born in Honolulu, Hawaii, in 1967. A few years after her birth, her family moved to Australia, where at the age of six, Nicole Kidman played the role of a sheepin a nativity play at highschool. This role initiated her getting acting lessons and seeking a career as an actress. At Madame Tussauds Berlin you have the unique chance to meet the Hollywood beauty as a wax figure at our exclusive celebrity party. Secure your Madame Tussauds Berlin tickets now and enjoy an a-list party together with the wax figures of the greatest stars of Hollywood.
In 1983, Nicole Kidman became a star overnight with the film 'BMX Bandits' before she achieved her breakthrough in Hollywood in 1991. In the young age of 20 Nicole Kidman won her first major award, the Australian Movie Award, for her role in the television movie 'Vietnam'. With her nomination for a Golden Globe Award for her role in 'Billy Bathgate' Nicole Kidman finally achieved her breakthrough in Hollywood. She has acted in a variety of different movies, including the well-known films 'Batman Forever' (1995), 'Practical Magic' (1998), 'The Interpreter' (2005) and 'Australia' (2008). Her career reached the peak in 2003, when she received the Oscar as the best actress in a leading role for the movie 'The Hours'.
Nicole Kidman is not only known for her acting talent, but also for her musical one. With the song 'Somethin 'Stupid', a duet with Robbie Williams, she scored the Christmas hit in 2001. As a model, Kidman has already achieved some success as well. For example, she was engaged by Karl Lagerfeld as the new face of the Chanel N ° 5 campaign in 2003. But she is famous for her relationships with popular people, too. From 1990 to 2001, she was married to actor Tom Cruise, with whom she adopted two children. Since 2006, Nicole Kidman is now married to country singer Keith Urban. Together they have two daughters, one of them was carried out by a surrogate mother. Nicole Kidman is known for being socially committed. In 2004, she was elected 'Citizen of the World' by the United Nations for her commitment to the common good and the rights of women and children.