Madame Tussauds Berlin, Divas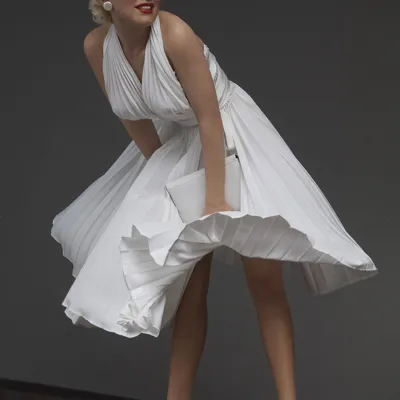 The mysterious life of Merilyn Monroe
Born on June 1, 1926 as Norma Jeane Mortenson, Marilyn Monroe was known as an American actress, singer, model and movie producer. Today she is not only one of the greatest female stars of all time, but also an icon and diva and the one and only sex symbol of the 20th century. She spent the majority of her childhood as a half-orphan in nursing homes, with relatives or with her mother. After her early school leaving she was discovered as a photo model in 1944.
In the following years Marilyn Monroe changed her production companies several times, without achieving the desired breakthrough as an actress. After some leading and minor roles as an attractive blonde she became the favorite of the audience and the new guarantee of success for the studios. Thanks to her roles in the films 'Gentlemen Prefer Blondes' and 'How to Marry a Millionaire' she could celebrate first successes in the early 1950ies. Especially in the thriller 'Niagara', Marilyn Monroe's erotic aura was impressively staged in the role of a femme fatale, establishing herself internationally as a sex symbol and movie star. Her most successful films in the following years included music films and comedies such as 'The Seven Year Itch', 'The Prince and the Showgirl', 'Bus Stop' and 'The Misfits'. Most of her roles were fixed on the type of a naive, lascivious blonde, which paved the way for Hollywood's most successful star. Marilyn Monroe won the Golden Globe Award in 1959 for her typical role as a seductive blonde in the movie 'Some Like It Hot'. This film is still considered to be the best American comedy of all time. In only 15 years the actress shot 33 films. Marilyn Monroe was considered the most famous and most photographed woman in the world. In 1999 she was voted the sixth most important female star of all time by the American Film Institute.
Marilyn Monroe often regretted her image as a curvy, sexy blonde, as she was not perceived as a serious actress. The last years of Marilyn Monroe's life were characterized by depression, personal problems after three failed marriages and legal disputes with the studio 20th Century Fox. The talented artist died already at the age of 36. The circumstances of heir death, an overdose medication, are still controversial. To this day, there are theories about suicide, accidental overdose, or even murderer. At Madame Tussauds Berlin the icon Marilyn Monroe is still alive in the form of her wax figure. Meet the diva in her famous white dress over the ventilation shaft, grab the tailor-made dress and the blonde wig and pose next to Marilyn Monroe at Madame Tussauds Berlin.