Madame Tussauds Berlin, Divas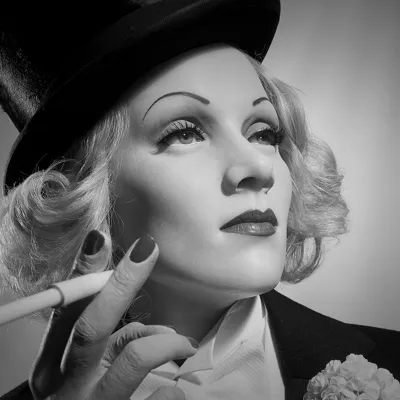 Travel back to the Golden Twenties
Marie Magdalene Dietrich was a German actress and singer, who was one of a few German-speaking artists to be successful in Hollywood during the 20th century. However, she is not only known as a diva of the film history, but also as a Hollywood style icon. Thanks to her trousers suits established as a decent garment for women in the 1930s.
Marlene Dietrich began her career as an actress at the theater and in several silent films of the Golden Twenties in Berlin. The big breakthrough came in 1930 with the film 'Der Blaue Engel' directed by Josef von Sternberg, where she played the leading role of Lola Lola and sang the well-known song 'Ich bin von Kopf bis Fuß auf Liebe eingestellt'. Shortly thereafter, she succeeded her breakthrough in Hollywood with the drama "Morocco". She became the first German to become a film star in Hollywood and made other successful films such as 'Shanghai Express' (1932) and 'Destry Rides Again' (1939). She did not return to Germany and accepted the citizenship of the United States in 1939. At the time of National Socialism, Marlene Dietrich refused to support the Nazi propaganda and rejected the film offers of Minister Joseph Goebbels several times. Instead, she worked for the US military service and engaged for European emigrants in Hollywood. Therefor she received the Freedom Medal from the US President Harry S. Truman in 1947. Marlene Dietrich has been traveling on concert tours throughout the world for the next 30 years. Especially the song 'Sag mir, wo die Blumen sind', a cover version of the anti-war anthem of Pete Seeger, consolidated heir success. But also other songs like 'Lili Marleen' and 'Ich hab noch einen Koffer in Berlin' gained international renown. For health reasons, the great Marlene Dietrich ended her career in 1978 after the shooting of her last film 'Schöner Gigolo, armer Gigolo' and lived until her death 1992 in Paris.
As is true of every genuine Hollywood diva, Marlene Dietrich has won numerous awards and honors not only during her lifetime, but also after her death. She received not only a nomination for the Oscar and the Golden Globe Award, but was awarded the Special Tony Award in 1968. As one of the first Germans she got a star on the Hollywood Walk of Fame in 1960 and 50 years later she was honored with the first star on the boulevard of stars in Berlin. At Madame Tussauds Berlin the Diva is still alive as her wax figure. Here you can not only dive into the golden 1920s, but also shoot breathtaking reminders. Dress yourselves with wreck and cylinder and get photographed by our professional photographers beside the wax figure of Marlene Dietrich. Secure your tickets now and shoot memorable photos of the very special kind at Madame Tussauds Berlin.