Madame Tussauds Berlin, Interactive Libery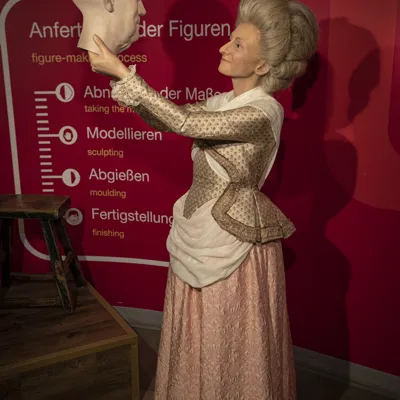 Meet the woman with whom it all began...
Marie Tussaud was born as Marie Grosholtz in Strasbourg in 1761. She learned the practice of sculpting from the Swiss physician and ceramist Dr. Philippe Curtius (1741-1794), where Marie's mother, Anne-Marie Walder, was employed as a housekeeper. Curtius became the godfather and mentor of Marie and taught her the production of various wax forms. After the death of her godfather, she inherited the complete collection of wax figures and moved to England in 1802, after she had married the engineer Francois Tussaud. In England, she presented her wax figures in a traveling exhibition in Great Britain and Ireland for the first time. Marie Tussaud already had a knack for marketing activities and sold her attraction as a kind of traveling newspaper, which supplied everyone with images of the current world happenings. Since there was neither photography nor film at this time, a visit to Madame Tussauds was the only way to meet the people behind the headlines face-to-face and to get a picture of historically and politically important people of this time. In 1835 Marie Tussaud finally settled down with her attraction and opened the first permanent seat of 'Madame Tussauds' in London.
At the age of 17 Marie Tussaud created her first life-size wax figure, a portrait of Jean-Jacques Rousseau. In 1783, she built a wax figure of the living model Benjamin Franklin (1706-1790). Franklin was an American ambassador in Paris from 1776 to 1785. Like many other famous men, he was said to have regularly visited her family. The procedures that Marie used at the production of the wax figure of Benjamin Franklin were passed on from generation to generation over two centuries. Today the sculptors and make-up artists of Madame Tussauds still use a lot of these techniques to produce the most life-like wax figures in the world.
Marie Tussaud survived the French Revolution and escaped from the Guillotine, while creating masks from former noble friends and employers, giving her life enough excitement and tragedy for a Hollywood blockbuster. The life of Madame Tussaud was unquestionably no less exciting than those of the many celebrities exhibited in the illustrious 200-year history of the world famous attraction.