Madame Tussauds Berlin, Music Zone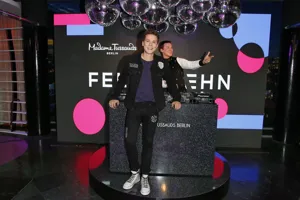 Celebrate together with the international star DJ Felix Jaehn.
His figure in Madame Tussauds Berlin wears an outfit donated by him personally, which he wore in front of one million people at the big New Year's Eve party at the Brandenburg Gate.

At the age of 16 he already worked as a DJ in different clubs.

Felix Jaehn made his international breakthrough with the remix of the song "Cheerleader" (2014) by the musician OMI.

The figure stands behind Felix Jaehn's true-to-original, recreated, interactive DJ set.