Madame Tussauds Berlin, World politics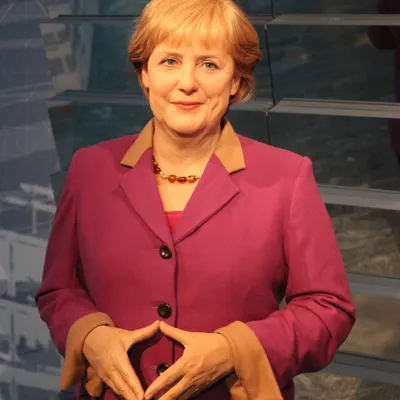 Learn more about the German Chancellor
Angela Merkel was born in Hamburg in 1954 as Angela Dorothea Kasner and is the governing Chancellor of Germany since 22 November 2005. Thus she was the youngest person in this department so far.
Born as the daughter of a teacher and an evangelical priest in Hamburg, Angela Dorothea Kasner grew up in Templin, Brandenburg. After graduating from high school, she studied physics at the University of Leipzig. Merkel conferred a doctorate at the Institute for Physical Chemistry of the Academy of Sciences in Berlin-Adlershof. Merkel speaks English and Russian fluently. She was married to Ulrich Merkel from 1977 to 1982, but she kept his name after the divorce. In December 1989, she joined the Democratic Movement and joined the CDU in 1990. In the same year, she was elected to the German Bundestag for the constituency Stralsund-Rügen. In 1991, Merkel became Minister for Women and Youth. Three years later she became Minister of the Environment, Nature Conservation and Nuclear Safety. After the bitter electoral defeat of the CDU at the German Bundestag elections in 1998, Angela Merkel became General Secretary of the Party and was elected as leader of the CDU two years later. In 2005, she replaced her predecessor, Gerhard Schröder, as the new Federal Chancellor of Germany. Angela Merkel is thus the first woman as well as the youngest person in this department so far. After being successfully re-elected in 2009 and 2013, she will run for chancellor for the fourth time this year. In addition, Angela Merkel was president of the EU council in 2007 and was therefore the highest representative of the European Union alongside the EU Commission President. Forbes Magazine has declared Angela Merkel to one of the most influential and powerful women in the world several times.
Angela Merkel's wax figure was the first one at Madame Tussauds, which was completely renewed. Since our figures cannot age like their human originals and Angela Merkel was voted as one of our most popular wax figures in the visitor surveys, she got a new and more up to date wax figure. Thus her current copy has folded her hands to the famous "rhombus of power". Now safe your tickets meet the wax figure of our chancellor and help Angela Merkel governing Germany.