Tickets & Passes
Local Resident Tickets
Did you know that you can save 50% on admission all year round with our Local Resident Ticket?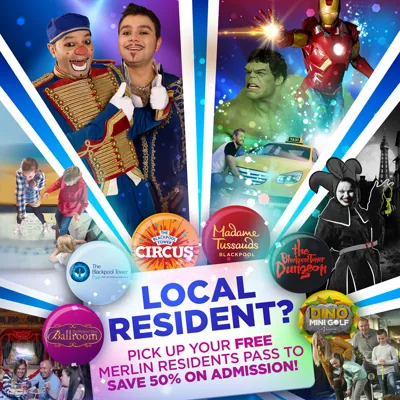 Explore the most exciting attractions in Blackpool...
With a FREE Merlin Resident's Pass you get 50% off admission for you and up to 3 friends to the following attractions:
Explore the iconic Blackpool Tower, head to the dazzling Blackpool Tower Circus, or challenge your friends to a roar-some game of Dino Mini Golf
Journey to the depths of The Blackpool Tower Dungeon, featuring an amazing cast of hilarious theatrical actors and special effects to bring to life 1,000 years of 'orrible Lancashire history. With 10 laugh-out-loud shows, incredibly immersive sets and gripping storytelling, ending with a thrilling drop-ride, it's a must for all the family.
If you'd rather stay above ground, why not experience the best views in the North West, 380ft in the air?  Take a trip to the top of The Blackpool Tower and brave the thrilling SkyWalk, a five-centimetre thick glass viewing platform where you can look out into the Irish Sea and see the famous Blackpool Promenade below you. Plus don't forget to grab a drink at Bar 380!
Get up close and personal with some of your favourite celebrities from the world of music, sport, TV and comedy at Madame Tussaud's Blackpool.
Terms and Conditions
To receive your free personalised pass, you will need to bring proof of FY or PR postcode, plus a passport-sized photo to either The Blackpool Tower or Madame Tussauds Blackpool.
Your Merlin Residents Pass is valid for 12 months from the date of issue with some date exclusions in peak periods.* All persons visiting the attraction with a Merlin Residents Pass are subject to the following Terms and Conditions and by acquiring one or more tickets to The Attraction ("Ticket" or "Tickets") you confirm to Merlin that you accept these terms and conditions of use. 
1.1 Each pass will entitle the holder (and up to 3 more people) to the following discounts at The Blackpool Tower Eye, The Blackpool Tower Circus (excluding Toddler ticket), The Blackpool Tower Dungeon, Blackpool Tower Ballroom  and Madame Tussauds Blackpool:
- 50% off all year
1.2 *Offer not valid during October Half Term: 19th October 2020 – 1st November 2020 inclusive.
1.3 This offer doesn't include any events, public or private.
1.4 This offer does not include any upgraded tickets such as VIP or 2nd-row seats in The Blackpool Tower Circus.
1.5 The Blackpool Tower Circus runs its main season from Easter – November and its pantomime November – January, exact dates/times can be found on the website. Excluding 25/12/20.
1.6 The Blackpool Tower Circus seats are available on a first-come-first-served basis and can sell out during busy periods.
1.7 The Blackpool Tower Eye is open subject to weather conditions and is closed Monday's and Friday's from November – January. Excluding 25/12/20.
1.8 The Blackpool Tower Dungeon runs in timed slots. Timing of entry slots depends on the time of year. The attraction is closed Mondays and Fridays from November – January.  Excluding 25/12/20.
1.9 Madame Tussauds Blackpool is open all year round excluding 25/12/20. Madame Tussauds Blackpool reserves the right to remove wax figures for maintenance at any time.
2.1 Full opening times for all attractions can be found on the individual attractions websites.
2.2 This pass can not be used in conjunction with any other offer – including tickets purchased online.
2.3 The residents pass must be shown when purchasing tickets and the pass holder must be present at the time of purchasing.
2.4 Each pass will entitle the pass holder and up to 3 other people the above discounts.
2.5 The resident pass is only be issued to over 18's although under 18's can gain the above discounts as part of the pass holders 3 additional discounts.
2.6 The pass holder may be asked for a form of ID (bank card, driver's license) upon visiting.
2.7 Valid on dates as specified. Discount valid for attraction admission only.
2.8 Admission with this pass cannot be pre-booked and refunds cannot be given.
2.9 All children must be accompanied by an adult at all times.
3.1 This pass cannot be used as proof of age – challenge 21 is in operation at all attractions. Merlin Entertainments reserves the right to remove this offer at any time.