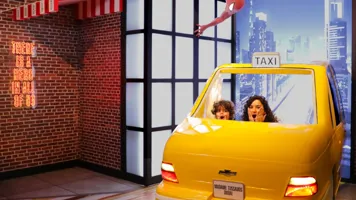 Be the Hero and Hang Out with Spider-Man!
Ever dreamed of meeting your favourite hero? Now is your chance! Be transported to New York to meet and pose with the one and only friendly neighbourhood Spider-Man.
This experience will blow your mind – and amaze children! Visit Madame Tussauds Dubai with Standard Admission; get a souvenir photo (featuring YOU!) on the front page of the Daily Bugle. The excitement continues as you cast your hand in WAX to create a web-themed wax hand. All included in our new Entry + Spider-Man Combo Ticket!
Take home your Daily Bugle newspaper photo print hot off the press and your web-themed wax hand. Visit us today for a super-hero experience!
Spider-Man and distinctive likeness(es) thereof are Trademarks of Marvel Characters Inc. and are used with permission. www.marvel.com. Copyright © MMIX Marvel Characters, Inc. All Rights reserved. www.marvel.com
Standard Admission to Madame Tussauds Dubai
Visit Spider-Man in his street-themed set
Printed photo of the Daily News headlines, featuring – YOU!
Cast your hand in wax to create a web-themed wax hand
Unlimited digital photos