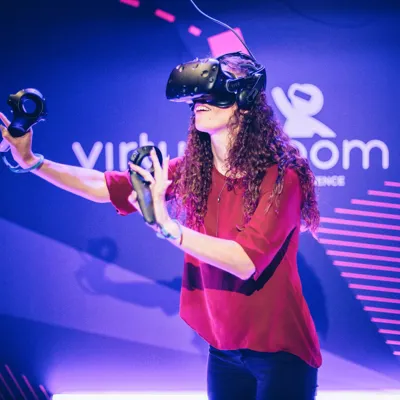 Be a Hero! Star in Your Own VR Time Travel Mission
What is collaborative VR?
Each player has their own dedicated room, specially designed and equipped with the latest virtual reality gear (HTC Vive). You will participate in the game standing up and will get to move around, search for items, manipulate objects and collaborate with your fellow team members.
The HTC Room Scale Virtual Reality experience allows you to explore worlds in a way that's never been possible before. Your movements are fully tracked in the virtual world, combined with the maximum usable space we offer in our specially designed play areas, you get the full experience, and nothing less.
It's unlike anything you've ever experienced before - immersion, freedom, adrenaline, the ultimate thrill!
Who can play the game?
Must be age 12 and up. The adventure is played between 2, 3 or 4 players in one VR game.
Each player will wear the most comfortable immersive headset available, the HTC Vive, guaranteeing an experience with no "seasickness" or migraines (often the case with more intense or lower quality VR headsets).
Play with friends, family, team building, birthday parties, and more! Virtual Room was carefully designed by video game developers to guarantee a fun experience and most importantly an experience open to everyone!
Pricing 
Purchase for the Virtual Room is currently sold through Virtual Room's website. Please CLICK HERE to book a date and time, and to learn more.