Wax Donald Trump Presidential Inauguration
Thursday 26th April 2018
Madame Tussauds Hong Kong
What's New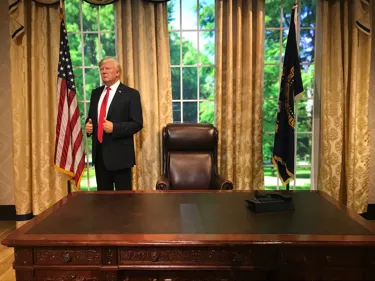 HONG KONG (April 26, 2018) The 45th and current President of the United States will now reside in his new Oval Office at Madame Tussauds Hong Kong, just on the day of his wife Melania Trump's birthday. President Trump, with over 50 million Twitter followers, has an active presence on social media. Now visitors will have a chance to tweet support "him" back on the new interactive social media wall inside the famed attraction at The Peak.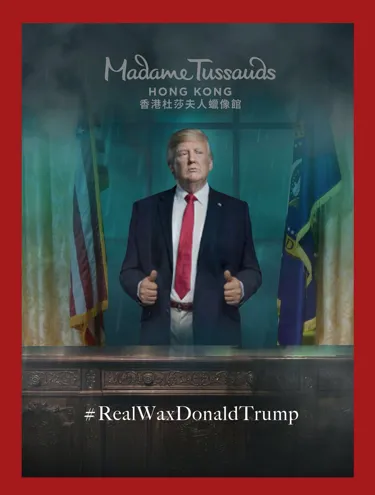 Madame Tussauds studio artists have been hard at work creating the wax figure of Trump and matching his infamous glowing tan and trademark hairstyle. The man who embarks on his journey to 'Make America Great Again' will be dressed in his recognisable Republican red silk-tie, navy power suit and Made in American flag lapel pin. Visitors will now find President Trump at his Office - next to fellow world-leaders also immortalised in wax.   
As an active Twitter user, millions of people around the globe track President Trump's every move on social media. But have you ever thought about tweeting him back? Hashtag #RealWaxDonaldTrump on Facebook, Twitter and Instagram to display and share your funniest photos with President Trump's figure on the smartphone set in the attraction.
President Trump, born Donald John Trump, is the 45th President of the United States. At age 70, he is the oldest and wealthiest person to assume the presidency, and the first without prior military or governmental service. He is also a billionaire businessman who owns The Trump Organization and listed as the 766th wealthiest person in the world (260th in the United States) on Forbes 2017.  
President Donald Trump will join other world leaders like Indonesian President Joko Widodo, Indian Prime Minister Narendra Modi in the Historical and National Heroes zone.