Kim Woo-Bin's World – First Figure Unveils
Saturday 22nd September 2018
Madame Tussauds Hong Kong
What's New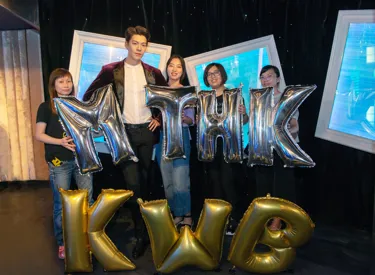 HONG KONG (September 22, 2018) Today, popular Korean actor Kim Woo-bin took up residence at Madame Tussauds Hong Kong and became the first Korean actor to join the "Hong Kong Glamour" zone. On the day of the event, fans gathered at the attraction to show their support. Upon seeing the wax figure, they could not help but be amazed by the likeness; it is as if their oppa was right there next to them. They also presented heart-warming and moving confessions and screamed their support for Woo-bin, letting him know that they'll wait for his return.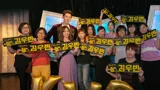 Although Kim Woo-bin could not be there to unveil his wax figure in person, Madame Tussauds Hong Kong made special arrangements for a distinctive ceremony. This marked the first time that fans were invited to unveil a wax figure, allowing them to witness every important moment in Woo-bin's life. Woo-bin also left a message to his fans: I hope everyone reading this will always be healthy and happy. On the event, fans competed against one another to see who knew Woo-bin better, expressed their feelings for the actor, and watched a fan-video titled "I Want to Tell You". "Just keep smiling and move forward, we have your back," said one fan in the video. Others delivered a message in unison: "We'll always support you and wait for your return". It was a warm and moving scene, filled with dedicated encouragement and support for Woo-bin. Exclusive behind-the-scenes footage of the sitting process was also shown at the venue. The event was met with overwhelming support from fans. It was an emotional roller-coaster with tears and laughter, and the finale was marked by an outpouring of warm thoughts and well wishes.
The "Hong Kong Glamour" zone features many Hollywood superstars and Asians celebrities. As the first Korean artiste to join the zone, Kim Woo-bin has a particular quality of charm and talent. Looking at his resume, it is clear that he is an actor with great potential. He began his career in 2008 as a professional runway model at Seoul Fashion Week before making his acting debut in the KBS TV drama White Christmas in 2011. He starred in hits like "School 2013" and "A Gentleman's Dignity", and was named Best New Actor at the APAN Star Awards. His popularity skyrocketed after his leading role in "The Heirs", which was a massive hit in Korea and China. He has stepped into the silver screen in recent years, appearing in his first major film role in the blockbuster "Friend: The Great Legacy", which earned him several awards.   His diversified acting skills revealed in the comedic character in "Twenty", followed by  "Master" which became the 11th bestselling film of that year.
It is Woo-bin's talent and potential that caught the eyes of Madame Tussauds Hong Kong and attracted a legion of adoring and protective fans. His professionalism and dedication to his work won him much respect from the staff of Madame Tussauds Hong Kong. The sitting process took a long time, but Woo-bin always maintained a professional and optimistic attitude, actively communicating with the team regarding his wax figure's facial expression and pose. "I am incredibly honoured to be invited to have a wax figure made. The sitting process was completely different from filming a TV drama; it was truly an unforgettable experience," he said in an interview with Madame Tussauds Hong Kong. "I really look forward to the moment when my fans will meet another 'me'!" Given his excitement, Madame Tussauds Hong Kong made a special effort to organise this event, garnering overwhelming support from fans both online and offline to mark another important milestone in Woo-bin's life.