Lay Zhang Unveils Third Wax Figure
Thursday 28th February 2019
Madame Tussauds Hong Kong
What's New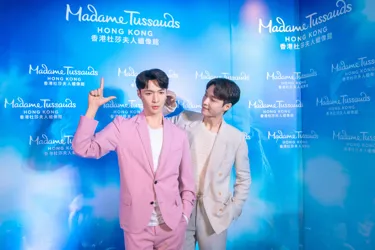 Popular singer Lay Zhang unveiled his third wax figure at Madame Tussauds Hong Kong, making him the first post-90s artiste to have his likeness displayed at three locations. Lay made his appearance at the event in a beige suit, and his mannerism was that of a kind and elegant gentleman – he immediately conquered the audience with his charm and sunny personality.
Lay has a strong connection to the number three. His third album NAMANANA performed well in terms of sales and charts on a global scale, breaking several records both at home and abroad; this year marks the third time he has performed at the CCTV New Year's Gala, and today's unveiling ceremony is also related to the number three – it's the unveiling of Lay's third wax figure. Lay had this to say about this: "My wax twin is very handsome. From a close distance, we really do look alike. I found out that this is how everybody sees me." Speaking of the characteristics of his three brothers, he said that their forms are different, and that they represent different cities and dishes. He also thanked Madame Tussauds Hong Kong for the recognition, and pledged to continue to work even harder in the future.
As for the wax figure's pose, Lay had this to share: "This is a very meaningful hand gesture that my fans make for me. Sometimes, when they don't have light-up sign boards, or when the signs run out of battery, they would make this 'Love Lay' sign." Fans online and offline immediately went wild and praised him for his warmth. In the media interview that followed, Lay re-emphasized that the hand gesture symbolizes a kind of everlasting love, showing his appreciation for his fans' support. The warm and capable Lay also made sure to say this to his fans: "May you all find your own happiness. When you look back on your youth, I hope you can proudly say that you liked Lay Zhang."
At the event, Lay took photos in five different poses with his wax twin. During the interactive photo activity, he hugged the figure from all angles, and even gave his doppelganger a kiss amidst cheers from his fans, causing them to scream "Let me do it!" Obviously delighted, Lay kept praising the likeness of this wax brother, and even named it 'Little Zhuang Rui'. He also revealed that he has been working with different artistes to create a different kind of music. Recently, he has been giving serious thought to using Cantonese in his songs. Speaking of music, Lay made it clear that he is planning to hold a concert in Hong Kong this year, but remained tight lipped about the details, sparking discussions among fans. At the finale, Jenny You, General Manager of Madame Tussauds Hong Kong, presented Lay with a golden microphone. She wished him every success with his music career and encouraged him to take on new challenges with different music genres. Lay was very grateful and moved by the thoughtful gift.
The Peak Tram service will undergo renovation starting from April 2019. After renovation, the tramcars will be replaced by more modern carriages. Fans who would like to feel the lingering warmth left behind by Lay on 'Little Zhuang Rui' should grab the chance to experience it for themselves at the Peak.