President Trump Appears At The Peak - Asia's First Live Figure
Friday 15th June 2018
Madame Tussauds Hong Kong
What's New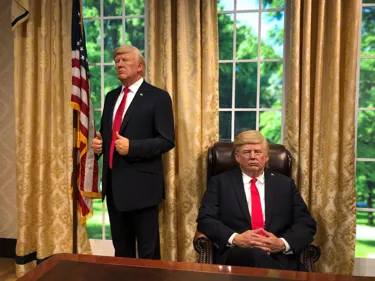 HONG KONG (June 15, 2018) Madame Tussauds Hong Kong brought Famous Fun to life as President Donald Trump made a surprise visit to The Peak. The exciting introduction of Trump LIVE in Hong Kong – a first across the brand's Asian estate – marks Madame Tussauds's ongoing commitment to bring a "real life experience" to visitors.    
During his surprise visit, President Trump tried his first ride on the Peak Tram. Amazed by the stunning Hong Kong skyline, President Trump also met the incredibly lifelike wax figure of himself at Madame Tussauds Hong Kong. After greeting his friends President Xi of China and Indian Prime Minister Narendra Modi, Trump also jumped at the opportunity to discuss "social media strategy" with American supermodel, Kendall Jenner.
Jenny You, General Manager at Madame Tussauds Hong Kong said: "We're constantly looking for ways to bring truly immersive experiences to our visitors. The launch of President Trump LIVE allows our visitors to experience the unique brand of famous fun and become the STARS of the story. We will continuously create unforgettable moments for our guests with our lifelike figures."
In welcoming the newly unveiled President Donald Trump figure, Madame Tussauds talented sculptors brought the figure to life using the latest technology, giving our visitors a truly extraordinary experience on their visit.  
The new President Trump figure is dressed in his recognisable Republican red silk-tie, navy power suit and Made in American flag lapel pin. Visitors to Madame Tussauds Hong Kong will have a chance to tweet support "him" back on the new interactive social media wall inside the famed attraction by hashtagging #RealWaxDonaldTrump on Facebook, Twitter and Instagram.