The Most Fashionable Check-in Spot In Town Unlocked
Monday 24th September 2018
Madame Tussauds Hong Kong
What's New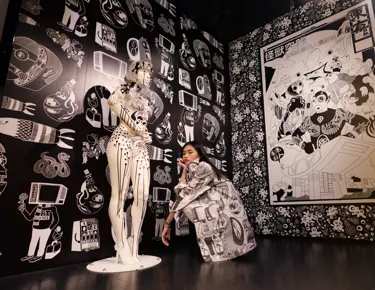 Hong Kong (November 23, 2018) Madame Tussauds Hong Kong today unveiled the attraction's ground-breaking wax figure presentation – US pop diva Lady Gaga as the canvas of Jan Curious' playful black-and-white illustrations, a truly unprecedented local to global cross-boundary collaboration. From now on, an up-close experience with the illustrated figure of Lady Gaga and several impressive paintings by Jan Curious, the lead vocalist of the local band Chochukmo are offered at Madame Tussauds Hong Kong. One of the notable remarks of the presentation is Jan Curious designed a new issue of Jan Chan Daily News for the attraction, creating a fun yet imaginative check-in spot for visitors to explore. At the press conference, a candid sharing with the media, revealing this amazing course of journey was made by the artist himself.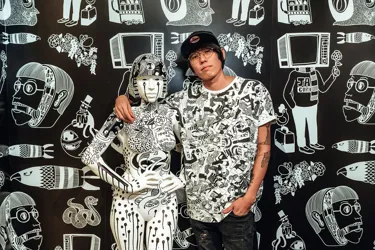 Check-in 1: The first-time ever illustrated wax figure
Previously invited by Merlin Magic Making, Jan Curious travelled all the way to the studio to take part in this project, becoming the first artist who involved in the distinctive finishing touch for wax figure at Madame Tussauds. Black-and-white poker dots, flowers, eyes and tears, all conjured up into compelling patterns that living up the striking style of Lady Gaga, winning widespread acclaims internationally. When it comes to inspiration, Jan explained: "When I draw, I do it wantonly; this time was no exception. I started drawing once I settled in before the wax figure. Lady Gaga is famous for her jaw-dropping, avant-garde style, so I clothed her by mixing all the illustrated patterns. The result was exceptionally matching. I believe only she could carry such daring design."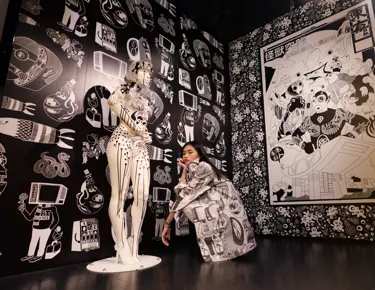 Check-in 2: Incredible presentation of black-and-white works
Besides Lady Gaga wax figure, Jan's array of black-and-white illustrations is another not to be missed spot for check-in. Jan is keen on using black and white in drawing, because: "Drafting is not my thing. I draw when inspiration strikes. That's why I only use two colours in my illustrations: black and white, just to save time from switching to other colours. These two colours are my favourite too as you can tell from my wardrobe. Thus, I have always been using black in my drawings."
Check-in 3: A new and tailor-made issue of Jan Chan Daily News
Among the three black-and-white murals, several works under the series of Jan Chan Daily News are especially created for this exhibition. Jan's works express strong local elements. Undoubtedly, he is a daredevil when it comes to innovation, which also strongly demonstrated in his eye-catchy works where taking the Peak Tower as the backdrop, titled Monster invasion of the Peak Tower and Spaceman fallen asleep while playing mobile phone.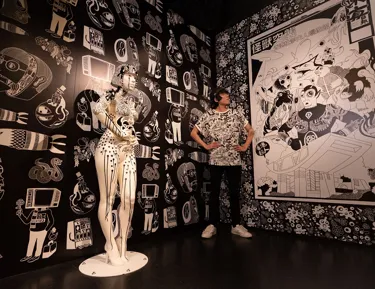 Masterpieces by cross-boundaries artist
An artist of great versatility, Jan Curious is not only good at singing but painting, too. He said: "I first developed my interest in painting when I was four seeing my mum drew an elephant. It was amazing to see how one expresses one's thought on a paper with just a pen." Before becoming the lead vocalist of Chochukmo, Jan studied graphic design and illustration at Northbrook College in England. He once worked as a part-time graphic designer and illustrator. In 2015, he held his first solo exhibition at Coolala in Sheung Wan, Hong Kong. For him, composing music is similar to drawing, he explained: "I see both music and drawing as a channel to express one's feeling and thought. However, music is oftentimes a team work but drawing can be done alone – one can draw whenever he or she wants."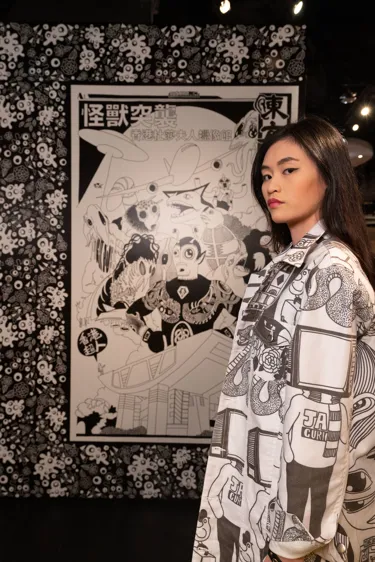 "We are pleased to collaborate with Jan Curious, bringing the illustrated wax figure of Lady Gaga to Hong Kong," said Jenny You, General Manager of Madame Tussauds. "Recently, 'checking-in' on social media has become a popular trend. By introducing check-in areas with artistic themes, our goal is to turn Madame Tussauds into a hot check-in place. We hope to attract visitors to come and see our works, while at the same time, check-in and share the fun they have here with their friends through social media."
Next to the exhibition is the custom-designed gallery of Japanese artist Yayoi Kusama. The Yayoi Kusama Gallery invites visitors of all age to explore her inner world and release oneself in the experience of 'self-obliteration'.