Renowned Japanese artist Yayoi Kusama to descend upon Madame Tussauds Hong Kong
Tuesday 18th October 2016
Madame Tussauds Hong Kong
What's New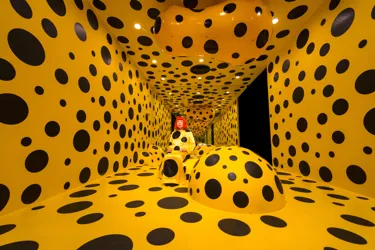 HONG KONG (13 March 2017) Following a hiatus from attending events in Hong Kong, well-known Korean celebrity Park Hae-jin today unveiled his wax figure at Madame Tussauds Hong Kong with cheering fans who are selected from official social media campaign for the special occasion. Park Hae-jin's figure officially arrives K-wave zone and will be on display for three months. Fans and visitors can stand shoulder to shoulder with their favourite idol at The Peak.
Dressed in a navy blue suit with black bow tie, the wax figure of Park Hae-jin sits on a stool and holds a bouquet of roses. It looks just as fondly as Park Hae-jin himself and exudes his signature gentleness and tenderness. At the ceremony, Park Hae-jin dressed in same outfits and sit side by side with his figure, all media and fans were surprised by the resemblance. According to Park, he wishes this pose can encourage fans to get up close and creates more unforgettable memories with his figure.
The Madame Tussauds sculpting team worked with Park Hae-jin on a detailed custom sitting several months ago.  In spite of the 7-hour sitting process, Park enjoyed every moment and kept discussing with the team. Park says: "I deeply appreciated the professionalism of the team. During the sitting, the team asked me to hold the exact same pose. Although I chose a sitting pose for my figure, it is not easy at all.  Apart from measurement, a sample of my hair, eyes, teeth casts, etc. were also acquired for replication to ensure all colour matched to create an accurate semblance. However, the moment of unveiling was truly magical. When I looked at my wax figure, it's as if I was looking into a mirror! Thank you Madame Tussauds Hong Kong. I am proud and thrilled to have a wax figure of myself."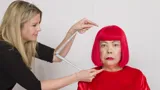 Born in the City of Matsumoto, Nagano, Japan in 1929, Yayoi Kusama has been passionate about visual arts since a young age: she was known to express fear and insecurity by creating colourful artwork composed of repeating dots and nets. When she was in her 20s, she decided to venture alone to New York. Through perseverance within the local art community and her relentless creative drive, Kusama's unique, avant-garde artwork as well as personal style gradually gained recognition.
As today's most valuable contemporary female artist, Kusama's countless masterpieces include Infinity Nets, Infinity Mirror Room and Pumpkin, just to name a few. With polka dots as one of her works' most iconic elements, Kusama has also channelled her endless creativity to crossover projects with numerous fashion brands and magazines, with each crossover project guaranteed to create a buzz.
The soon-to-be-revealed Yayoi Kusama themed zone at Madame Tussauds Hong Kong adopts yellow as the main colour and is manifested with repeating black dots. As visitors step into the space, they will be greeted by an overhanging "gourd" specially made in Japan. Parallel mirrors, along with dramatic lighting effects, instantly create a sense of inifinite space and dissolve the border between space and oneself, inviting visitors to let loose as they embark on a journey of self-obliteration. Seated at the centre of her artistic world, the highly lifelike wax figure of Kusama dons an eye-catching red hairpiece and a yellow dress with black polka dots.
Yayoi Kusama said: "I was delighted to accept Madame Tussauds Hong Kong's invitation to build an artistic themed zone for Hongkongers to experience my creative concept first-hand. I hope everyone who passes through Madame Tussauds Hong Kong can fully embrace the positive energy evoked by the zone."
Ms. Jenny You, General Manager of Madame Tussauds Hong Kong, said: "Ms Kusama is arguably the most significant contemporary artist of our time. We are extremely honoured for the opportunity to collaborate with her in bringing her wax figure and creative work to Madame Tussauds Hong Kong. As the first artistic themed zone at our attraction, this milestone underlines our effort in elevating our visitors' interactive experience by keeping our fingertips on the market pulse. This uniquely artistic themed zone also serves as witness to the transformation of our attraction's image, which has transcended the common belief that 'you'll only find wax figures at Madame Tussauds.'"