Z.TAO Celebrates Birthday With his Twin Brother
Wednesday 2nd May 2018
Madame Tussauds Hong Kong
What's New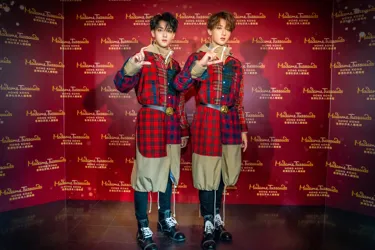 HONG KONG (May 2, 2018) Multi-talented superstar Huang Zitao (Z.TAO) made special appearance at Madame Tussauds Hong Kong to meet his wax twin on his birthday. Z.TAO becomes the first male artist to have a wax figure at Fashion Zone this year.
Z.TAO dressed in the same red checked asymmetric shirt from Loewe and struck the same pose with the C-sign as his wax figure at the unveiling. The outfit is donated by Z.TAO himself and as seen at the press conference of his《Promise》World Tour last year. The extremely lifelike figure shows off the celebrity's amazing sense of fashion style and undoubtedly a form of recognition of his achievements. As the first time the celebrity has his own figure, Z.TAO kept discussing the pose and style with the Madame Tussauds sculpting team. He believed that all VVHL (Z.TAO's fandom name) know the meaning of the C-sign which represents his attitudes toward music. He wishes this pose can encourage and remind everyone to pursue their dreams.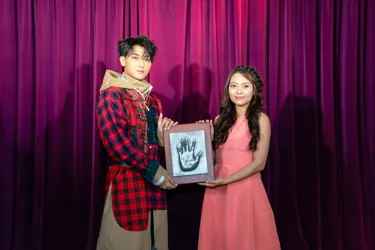 The unveiling ceremony was specially arranged on Z.TAO's 25th years old birthday. "This is a very valuable gift! It is great to see my twin brother on my birthday. Thank you Madame Tussauds Hong Kong for inviting me. I've had a great time with my fans!" Z.TAO commented. Fans around the world came to celebrate Z.TAO's birthday and played games with two Z.TAO on stage. The real Z.TAO has given his fans dozens of funny and clever responses on their questions. He also selected lucky fans on stage and taught them how to show love to his twin brother, bringing laughter and memories for all fans.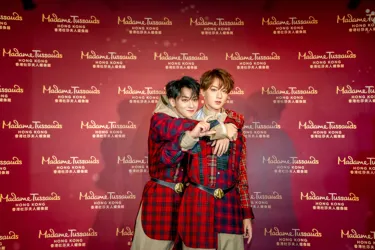 Z.TAO just finished his concert in Shanghai one day before the figure unveiling ceremony. Recently, he also gained significant recognition for his acclaimed roles in movie Railroad Tigers, The Game Changer and variety shows Law of The Jungle, Takes a Real Man II. This year, Z.TAO joined the dance-oriented variety show Street Dance of China and cast as head producer on Chinese version of Produce 101. The world-first figure will definitely be the icing on the cake on Z.TAO's career. "As a multi-talented artist in singing and acting, Z.TAO is rewarded for his efforts. We are pleased to work with Z.TAO again and looking forward to seeing the funny photos of VVHL and his figure." Jenny You, General Manager of Madame Tussauds Hong Kong, said.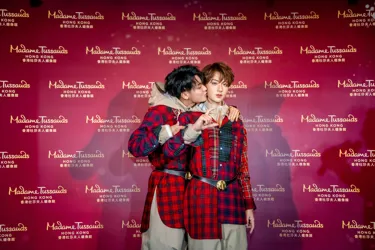 Madame Tussauds Hong Kong's Fashion Zone embodies celebrities, fashion, trendy and technology with Hong Kong cultures and elements. The Zone consisted of three themed areas which are Backstage Studio, Billboard Superstar and Runway. Visitors are able to become the cover star of fashion magazine, model of Madame Tussauds Hong Kong's new tramcar body advertisement and modeling on the runway under the iconic neon signs.