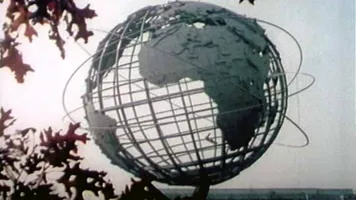 Awkwafina is Nora From Queens... and Now a Wax Figure!
New York-native and multi-talented actress, writer, and producer Nora Lum – best known to the world as Awkwafina – met her TWO wax figures for the first time in her hometown Queens at Flushing Meadows-Corona Park, once home to the historic New York World's Fair, amidst stunning views of the globally recognized local landmark The Unisphere.
Known for her incredible talent and infectious charm, Awkwafina has taken the entertainment world by storm over the years, earning rave reviews for her performances in Warner Bros. now-classic film Crazy Rich Asians and her hit Comedy Central series Nora From Queens. In 2020 she won the Golden Globe Award for 'Best Actress – Motion Picture Comedy or Musical' for her performance in Lulu Wang's The Farewell.
About the Figure...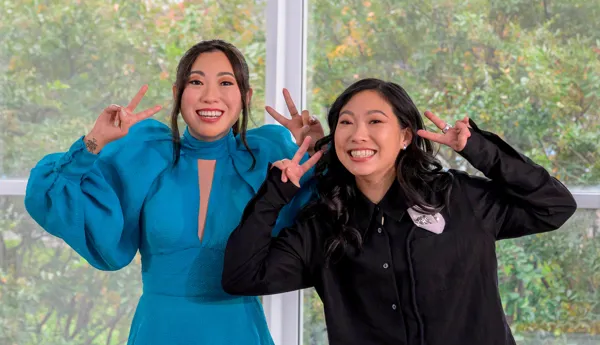 It's All in the Details
The New York figure is set in a dynamic pose that embodies the star's vibrant and charismatic spirit, dressed in an elegant blue gown, matching earrings, silver heels, a ring, and Awkwafina's signature 'NY' wrist tattoo depicting the Mets baseball team's logo. The look is reminiscent of the high-neck, deep V bodice organza Monique Lhuillie gown Awkwafina wore to the 2021 Emmy Awards.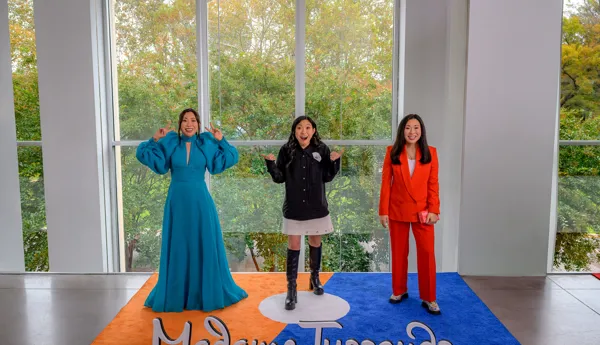 An Homage to New York
The beloved superstar shared her thoughts about her latest accomplishment. "The ability for this to happen to me is just really cool, to be, as you guys say, immortalized in wax. One is going to be living in the New York City location…so to know that I'm going to be in my hometown is a huge honor," said Awkwafina.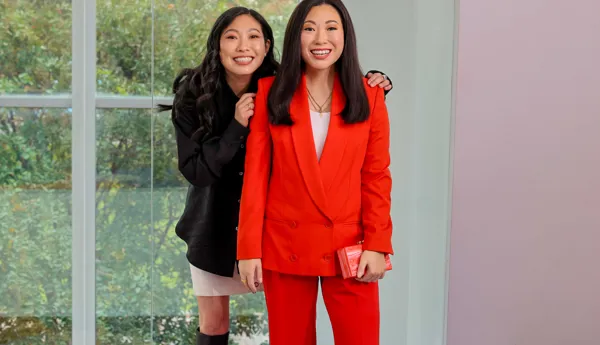 Another Awkwafina – in Orlando
The Orlando figure is adorned in a red two-piece suit, a white vest and floral shoes all donated by Awkwafina - along with her Metro Card and trumpet necklace and a ring displaying her New York area code. Awkwafina met with our team of sculptors, colorists, hairdressers, and stylists to properly capture her exact measurements, hair color, eye color, skin tone, and complexion. The two figures took approximately nine months to create by a team of 20 London-based artists.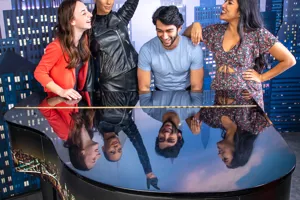 More at Madame Tussauds New York
5 Floors Of Celebrity Fun in the heart of Times Square

Access over 80,000 sq. ft. of fun and 200+ lifelike wax figures!
Get in an "Empire State of Mind" while playing piano with Alicia Keys
Guest star on the Tonight Show with Jimmy Fallon
Party at the Glow Gala: inspired by New York's famed gala scene, you'll vibe atop an exclusive NYC rooftop today's hottest celebrities, including Ariana Grande, Rihanna, and Brad Pitt.

Feel the power of your favorite Marvel Super Heroes in the thrilling 

Marvel Universe 4D! Get closer than ever before to Captain America, Iron Man, Black Panther, Captain Marvel, Spider-Man, and more heroes, as they battle to save the city.

Experience the magic of Broadway like never before and journey into classics like Phantom of the Opera. Score the music, get in wardrobe, create the magic, then join the cast. Don't miss your curtain call!
It's time to face your fears... Make your spine tingle meeting Warner Bros. "Icons of Horror." Plunge into chilling scenes of some of the most classic horror films ever released, including the iconic clown Pennywise.
BUY YOUR TICKET TODAY