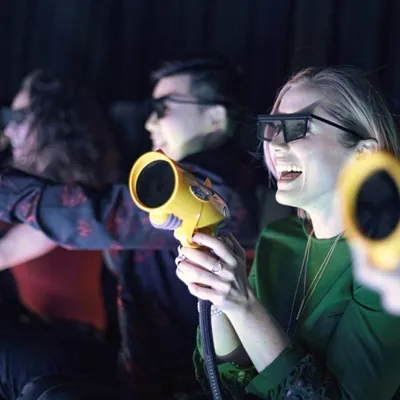 Can You Survive The Zombie Apocalypse?
NOTE: This Experience Is Not Currently Available Due To COVID-19 Health & Safety Measures
For the first time ever Madame Tussauds New York welcomes Mission: Undead! Guests will become fully immersed in a zombie adventure where YOU will play against your friends in a unique 7D multi-sensory interactive gaming experience. With rich cutting-edge technology YOU will feel like you are actually a part of the game while shooting lasers at the enemy. Experience the thrill of a roller coaster and the excitement of a state-of-the-art laser blasting game all at once. It's an adrenaline rush like no other. Help us save the world one zombie at a time.
It's a Zombie Attack!
You just graduated from the police academy and it's your first night of patrol on a dark and stormy night. You just need to investigate a traffic accident and you come across hundreds of ZOMBIES!
Think fast and stay on your feet! You want to make it through your first night of work, don't you?