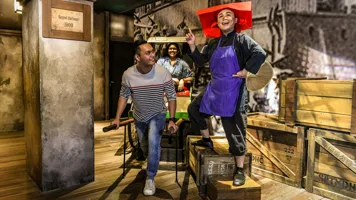 Hop On Board the Time Traveling Experience
Let our time travelling host take your students to some significant time periods in Singapore's history, and have the locals share their stories and experiences! This virtual experience is delivered through Zoom and utilizes the interactive platform Kahoot.
After travelling to each time period, the participants will log on to Kahoot, an online quiz portal, to answer the questions in real time.
The student then compete against each other via a series of fun questions on Singapore's history to hopefully emerge at the top of the leaderboard!
Please contact us at sales.sg@madame-tussauds.com or +657154000 to enquire now!