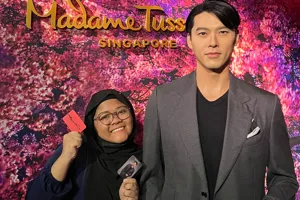 Hyun Bin's Autographed Photocards Giveaway
Now's your chance to get up close, snap endless photos with South Korean actor, Hyun Bin oppa and hear his heartbeat too! Stand to win Hyun Bin's autographed photo card when you purchase an entry ticket to Madame Tussauds Singapore via our official website.
How to win:
1. Purchase your tickets here
2. Fill up the form located at the bottom of this page and input your unique ticket order number(s)
3. Giveaway ends 30 Sept 2023, 2359hrs
4. 5 winners will be selected and announced by 13 Oct 2023

*Increase your chances of winning by purchasing more than 1 ticket. E.g 1 ticket = 1 chance, 5 tickets = 5 chances
T&Cs apply.
FREQUENTLY ASKED QUESTIONS
Tickets can be purchased using this link: https://www.madametussauds.com/singapore/tickets/ 
Only tickets purchased via Madame Tussauds Singapore website is eligible for the giveaway contest. Purchases made through other websites, travel agents or partners do not apply.
Increase your chances of winning by purchasing more tickets e.g 1 ticket purchased = 1 chance, 3 tickets purchased = 3 chances 
Submit only ONE form. Should you purchase more than 1 ticket, you may key in the all the order numbers in the same form
Unique ticket order number can be found on your e-ticket that would be sent to you once you have made the purchase


All tickets purchased on Madame Tussauds Singapore website are non-refundable, exchangeable for cash.
Yes! International fans are welcome to participate in the giveaway. However, please note that you would have to make arrangements to collect the photocard in person at the attraction. Should you be arriving from another city/country, you are to bear the cost of your own transport and stay. 
If there's something we've missed or anything you'd like to clarify, please send us a message on our Madame Tussauds Singapore socials @mtssingapore on Instagram or @MadameTussaudsSingapore on Facebook.