Chinese Valentine's Day
Friday 2nd August 2019
valentines day, chinese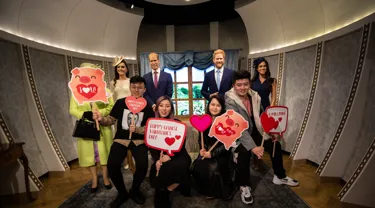 To celebrate Chinese Valentine's Day, we are inviting guests to capture a special memory at our pop-up display between 1st and 14th August!
Also known as 'QiXi Festival', Chinese Valentine's Day takes place every year on the seventh day of the seventh month of the Chinese Lunar calendar. This year, the occasion falls on the 7th August and at Madame Tussauds Sydney guests can pick a sign and get up close and personal, posing with one of the world's most famous and in love couples (and our newest arrivals), the Duke and Duchess of Sussex – Harry and Meghan.
Make sure to also head to SEA LIFE Sydney Aquarium and at the Sub-Antarctic Penguin Exhibit, pose in front of their love wall (as Penguins truly are the experts of love!) and their neon sign.