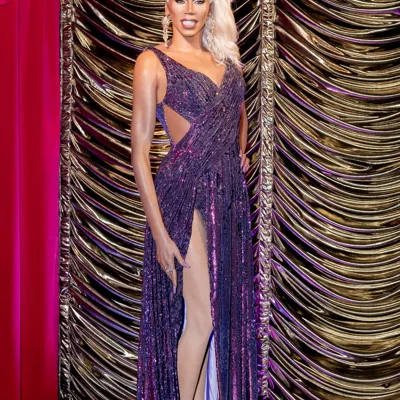 Star of the eponymous RuPaul's Drag Race and cultural icon, this is the first time RuPaul has been immortalised in wax in the UK.
Posed on the runway, Mama Ru exudes style and class in a beautiful sequined gown and gravity-defying wig.
Alongside iconic queens of the Blackpool drag scene, you can strike a pose next to the queen herself or sashay down the runway to some of your favourite RuPaul tracks. Shantay you stay!
Famous Facts
Ru is the tallest human figure at Madame Tussauds Blackpool, standing at 7ft 1inches.
RuPaul started his career when he moved to New York in 1987, performing and dancing in clubs.
In 1993, he release his debut album, "Supermodel of the world", which featured the titular track "Supermodel (You better work)" which became a mainstream hit.
Ru went on to star in a number of films and music videos, such as The Brady Bunch and To Wong Foo.
 Ru was the first drag queen to become a spokesperson for a major cosmetics company signing with M.A.C cosmetics
He hosted a variety television program called "The RuPaul Show" (1197-1998) which frequently featured his friend and long-time collaborator, Michelle Visage.
Ru is a two-time Emmy award winner for his show RuPaul's Drag Race; the UK version of which launched in 2019.
The music of Ru, which features heavily on the series is included on his 14 studio albums and includes 66 singles, 42 music videos and 13 promotional singles.