A Taste Of Bollywood In San Francisco
Tuesday September 27th 2016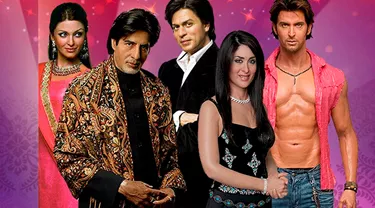 Madame Tussauds San Francisco joins the Bay Area's Indian community in celebrating Diwali, the festival of lights that is India's biggest national holiday celebrated by more than 900 million Hindus, Buddhists, Sikhs, Jains around the world. In anticipation of this major holiday, the attraction will reveal the wax figures of five of Bollywood's biggest stars including Aishwarya Rai, widely known to U.S. audiences and often hailed as the most beautiful woman in the world since being crowned Miss World and going on to become the first Indian actress ever to be on the jury at the Cannes Film Festival. Acclaimed by Julia Roberts as "the most beautiful woman in the world," Rai has appeared in over 45 films, including The Pink Panther 2 starring Steve Martin and Bride & Prejudice.

The Bollywood launch event will take place at Madame Tussauds' Fisherman's Wharf location on October 6, with appetizers from Kasa Indian Eatery and performances by Bollywood dance troupe, Nachle SF..

Madame Tussauds San Francisco brings a taste of Bollywood to the city for its wax figure launch event on October 6. The event will feature performances by Bay Area Bollywood dance troupe, Nachle SF, as well as the reveal of Madame Tussauds' Bollywood wax figure set, which will include Shah Rukh Khan, Aishwarya Rai, Hrithik Roshan, Kareena Kapoor and Amitabh Bachchan.

Following the event, the figures will live at the attraction for six months. Madame Tussauds San Francisco is home to Jennifer Aniston, Elton John, Leonardo DiCaprio, Bruce Lee, Harvey Milk, Mark Zuckerberg, Steve Jobs, Serena Williams, and Zendaya, just to name a few. The figures represent individuals who have achieved iconic status, ranging from President Obama to Peter Dinklage. Each figure takes a team of 20 skilled artists three to four months to create at a cost of approximately $350,000 each.