Emmy Award Winner Peter Dinklage Arrives At Madame Tussauds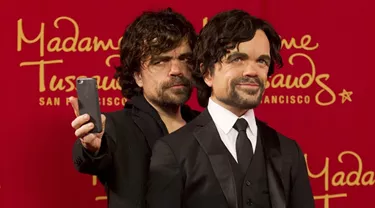 Madame Tussauds San Francisco today revealed the newly created wax figure of two-time Emmy-winning actor, Peter Dinklage, known to millions of fans as the character Tyrion Lannister on HBO's hit series "Game of Thrones." Dinklage's figure reveal celebrates the return of "Game of Thrones," which premieres its sixth season this Sunday, April 24.
When asked about seeing his figure for the first time, Dinklage said, "I didn't believe this was real, and now I do believe it's real. I haven't told anyone but my wife because maybe I'm going to just invite them to San Francisco and freak them out."
Madame Tussauds' expert team of sculptors and artists in New York dedicated more than two hours to capture Dinklage's features and likeliness, taking over 250 measurements. The measurements were then sent to the Madame Tussauds in London, where a team of 20 studio artists devoted four months to create Dinklage's figure, valued at approximately $350,000. Dinklage donated a black tuxedo for his wax figure, which allowed Madame Tussauds to replicate his style in the most authentic way possible.
"With the upcoming 'Game of Thrones' season premiere, we felt it was the perfect time to reveal Peter Dinklage's wax figure," said Chris Connors, General Manager of Madame Tussauds San Francisco. "We are excited to share his figure with the show's legions of fans."
Earlier this month, Dinklage hosted "Saturday Night Live" and starred in "The Boss" with Melissa McCarthy, which is currently playing in theaters nationwide. Dinklage is best known for his role as Tyrion Lannister of House Lannister in the HBO fantasy epic, "Game of Thrones." He won an Emmy Award in 2011 and 2015 for Outstanding Supporting Actor in a Drama Series, as well as a Golden Globe Award for Best Supporting Actor – Series, Miniseries or Television Film in 2011.
Starting today, Dinklage's figure will have a permanent position at the Madame Tussauds Fisherman's Wharf location. For a limited time, fans can take advantage of a special Buy One, Get One offer by using promotional code "Tyrion" at madametussauds.com/sanfrancisco or at the Madame Tussauds box office.
Buy Now