Laverne Cox Arrives at Madame Tussauds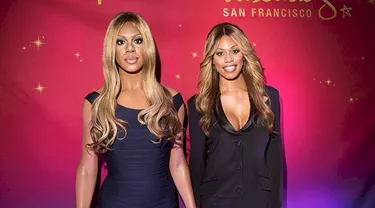 On June 26, Madame Tussauds San Francisco made history when they welcomed the Emmy award winning Laverne Cox to pull the curtain back on her wax figure. The wax replica of Ms. Cox represents the first transgendered figure ever created in the more than 200-year history of Madame Tussauds.
Cox introduced her figure as part of the kick-off to San Francisco's PRIDE weekend. 

She said being the subject of a wax figure was an honor and shows that "dreams matter and are possible."

The rise of Ms. Cox to celebrity status is considered a tipping point in acknowledging the relevance of transgendered performers. The dress her figure is wearing at Madame Tussauds San Francisco is the same dress she wore when she made the cover of TIME Magazine in 2014.

Guests can first see Ms. Cox's wax figure on Sunday as the centerpiece to our 2015 San Francisco Pride float. On Monday morning the actress can be visited in our A-List.