Blackpool Welcomes Professor Brian Cox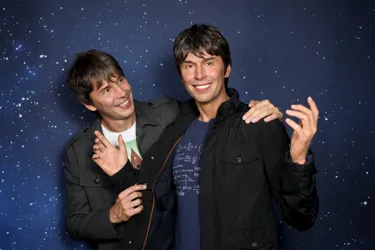 PROFESSOR Brian Cox cordially invites you to the ultimate science lesson.
Madame Tussauds Blackpool is launching not one, but two versions of Professor Cox, with an extraordinary 3D hologram of the physicist – the first of its kind in the UK – along with his very own wax figure.
The genius OBE, FRS Professor of particle physics, won't just be available for taking selfies, but he will also be doing what he does best – teaching us physics.
Madame Tussauds Blackpool is welcoming a brand new interactive experience, in which Brian Cox will educate them on the wonders of the universe. From orbiting planets and moons, black holes to multiverses – the secrets of our solar system will be revealed right in front of their eyes.
Perfect for school trips or a family day out, guests will receive a truly out of this world, immersive lesson, from one of the UK's leading Professors of particle physics and notable faces within this field.
Professor Cox's wax figure appears with his signature bright, animated smile, standing relaxed with an open hand gesture as if addressing his audience.
After co-authoring over 950 scientific publications and a string of best-selling books, including Human Universe and Universal, A Guide to the Cosmos, Professor Cox was thrust into the limelight making physics accessible to the masses. Professor Brian Cox quickly became the country's most loved scientist for his good looks and presenting a string of well-known and widely popular programmes for the BBC, such as the Wonders of… series.
General Manager, Matthew Titherington, said: "The one-of-a-kind 3D hologram of Professor Cox, as well as the specially designed solar system exhibit, is something totally unique to the attraction – the UK first – which will hopefully both excite and educate guests in equal measure."
"We can't wait to see our visitors reaction at Brian's arrival to the attraction, as he's such a much-loved public figure, with both young and older generations alike."
Madame Tussauds Blackpool tasked lead contractor Interesting Audio Visual ltd and Kaleida to work collectively to create their show-stopping hologram.
Kaleida Producer Daniel Reynolds said: "Developing this hologram with both Madame Tussauds Blackpool and Professor Brian Cox is something Kaleida is immensely proud to be a part of.
Together we have not only created a genuinely unique piece but also something that will capture the imaginations of young and old alike and cultivate their interest in the sciences and world around us."
If you're feeling a little rusty on the solar system or quantum physics, take the kids to Madame Tussauds Blackpool for a truly immersive scientific experience.