BRAND NEW! DanTDM!
Friday 9th July 2021
Fun days out in Blackpool, Family days out in Blackpool, Madame Tussauds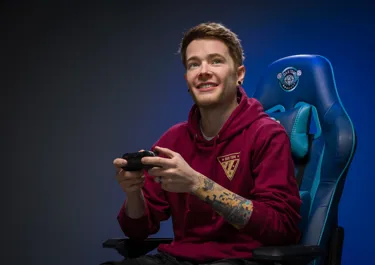 From Minecraft legend to wax superstar, British gaming personality and YouTuber DanTDM has arrived here at Madame Tussauds Blackpool!
With 25.3m YouTube subscribers, Dan is best known for his video commentaries of popular games such as Minecraft, Roblox and Pokemon.
This is your opportunity to take a sneak-peek into the world of DanTDM and get closer than ever before to this YouTube sensation.
Our brand new zone has been modelled to be a replica of DanTDM's home office, complete with custom-made gaming chair to match the one used by DanTDM.
The room features vintage consoles, an arcade machine and voice clips recorded by Dan bespoke for the experience, in our first ever scented room – which we've branded 'Eau De Gamer'.
DanTDM's wax figure is dressed in clothes donated by the star himself and is ready with controller in hand to pose for those selfies.
Dan's figure has involved the work of 25 individual artists and has taken over 800 hours to create.
Dan originally visited our studio in 2019 and allowed us to take over 350 measurements to help us create his figure.
It then took the team 9 months to sculpt Dan's figure, inserting 100,000 individual hairs to replicate his hair style, spending over 75 hours recreating each of Dan's tattoos and using 150kg of clay – equivalent to 23 stone of the weight of an average tiger!
To see what Dan thought when he met his wax twin and hear more about his visit to Blackpool check out his Youtube video - I Have a Twin.. - YouTube