Dame Barbara Windsor Reveals New-Look Wax Figure
Wednesday 14th September 2016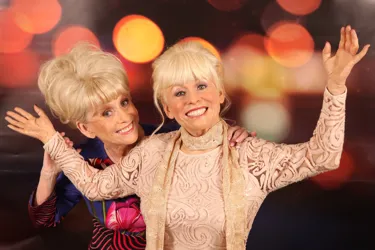 Fresh from her win at the TV Choice Awards for her outstanding contribution to television, Eastenders sweetheart and national treasure, Dame Barbara Windsor, has launched her new-look wax figure for Madame Tussauds Blackpool.
Dame Barbara was here visiting Blackpool after being given the incredible honour to flick the switch to the world-famous  Blackpool Illuminations and she donated a dress to update her figure which was one she was planning on wearing for the Switch-On.
It was one of her favourite Joseph dresses which brought the figure up to date and it also had its hair and make-up refreshed by the talented team at Madame Tussauds' studio. They insert each hair by hand and spend hours ensuring the skin tone is perfect and make-up spot on.
The nude dress her figure is now wearing has long sleeves and is delicately layered with an embellished sheer layer featuring sequins and swirls of fabric in the same shade of pale pink.
Dame Barbara herself wore a striking brightly coloured top with tulips on the front and matching trousers. She stylishly complemented the wax figure perfectly as they both have her trademark voluminous, blonde hair, pretty fringe and a happy smile.
She said: "I'm so pleased with my wax figure, even the hair is soft and natural & the colour is perfect – it's definitely my signature blonde. I can't believe the Madame Tussauds have got my teeth spot on!
"I'm thrilled that my figure is up here in Blackpool. Emotionally, this place means so much to me – if it wasn't for Blackpool, I wouldn't be in the theatre and I wouldn't be a Dame.
"I was evacuated here during the war and sent to live with a lovely couple Mr and Mrs North. They had a daughter Mary, and we couldn't play in the streets due to the bombing so, they sent us to dance classes instead; that's how it all began.
"I've returned twice to perform in summer season shows at the North Pier Theatre and the Grand Theatre and I'm so honoured that my figure is here full time."