Justin Bieber Makes Waves in Blackpool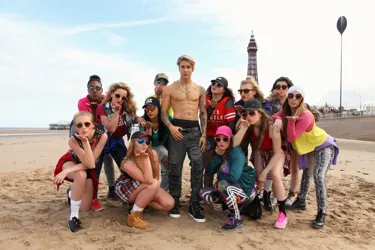 Justin Bieber kicks off his latest UK tour this summer in none other than Blackpool, the country's number one beach resort.  His newly unveiled wax figure will be taking centre stage in Madame Tussauds Blackpool.
To celebrate his arrival, 12 dancers from MD Productions became #BlackpoolBeliebers and took to Blackpool beach to recreate the iconic 'Sorry' video. Replicating the look and feel of the original dance video, the dancers give the real troupe a run for their money.
Replacing the 'Sorry' video's white screen for a backdrop of sand and the world-famous Blackpool Tower, the spoof has something every fan yearns for in the original - an appearance from Justin himself.
Justin Bieber stunned fans earlier this year with his new, rugged look - a far cry from his baby-faced debut in 2010. Paying tribute to his recent success and drastic change in appearance, Madame Tussauds has created a brand new wax figure complete with Justin's tattoos, blonde locks and of course his chiselled abs.
Every intricate detail of Justin's physique has been carefully considered and perfectly crafted by a Madame Tussauds sculptor. The 'What Do You Mean' singer is dressed in typical attire; from his jewellery right down to his Calvin Klein's giving fans an eyeful of their crush. Casual in his getup and stance, the wax figure portrays Justin Bieber perfectly for his new home in the Festival Fields area at Madame Tussauds Blackpool.
The creation of a wax figure is a lengthy process and making Justin Bieber was no exception. It took the talented team at Madame Tussauds 6 months to perfect Justin's brand new wax figure!. In total it takes an experienced 20 strong team of sculptors, colourists and hairstylists to complete the figures, with each one costing £150,000.