Kym Marsh See's Double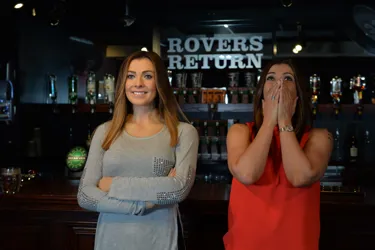 Kym Marsh met her match at Madame Tussauds Blackpool, where the Coronation Street star unveiled her brand-new wax figure.
She could barely believe her eyes when the curtain dropped to reveal her Coronation Street counterpart, Michelle Connor, not only looking back at her but talking too – quoting some of the Corrie character's most famous one-liners.
Kym excitedly posed side-by-side with her new wax figure, toasting to the occasion, in none other than Madame Tussauds Blackpool's Rover's Return Inn beer garden – a fun new addition to the attraction, building on the existing fully-licenced pub.
Following Michelle Connor's dramatic storyline in Coronation Street, it was only right that Madame Tussauds Blackpool chose the Corrie beauty to take place in the attraction in the company of fellow Corrie legends, Bet Lynch, Hilda Ogden, Jack and Vera Duckworth and Ken and Deirdre Barlow.
Since Michelle hit our small screens back in 2006, the pint puller has been a favourite with viewers and in recent months, Michelle's turbulent relationship with estranged husband, Steve McDonald has kept the nation gripped.
Kym said: "I couldn't believe it when I was approached by Madame Tussauds Blackpool to have my own figure created! It's been fascinating to be involved in the process and see first-hand how the figures are made.
"It's such an honour, especially as I'm being placed amongst Corrie royalty in the Rovers Return Inn – I can't wait to see the figure!"
The interactive wax figure, styled by Coronation Street's very own costume department, is smiling and standing in a casual pose with arms folded, dressed in a relaxed outfit of a grey, loose top, black jeans and boot, complete with an ombre hairstyle and natural make-up.
Visitors now have the exclusive chance to chat with Michelle, as her figure features new, integrated speech technology. Sound bites were recorded of Michelle's most famous lines during the sitting, in order to make visitors' experiences even more realistic.
Creating Kym's wax figure was an in-depth and thorough process, with a dedicated team of sculptors taking hundreds of precise measurements and photographs to ensure as accurate a likeness as possible. The figures are created by expert teams of sculptors, moulders, colourists and hair stylists, taking 20 people up to four months to complete a figure costing £150,000.
General Manager, Matthew Titherington, said: "We are thrilled to unveil Kym's figure here at the attraction.
 "Due to her infamous storyline in the show there has been a huge demand from the public for a wax figure, so we're sure they'll love getting up close and personal now it's in the attraction."
So, head to the beer garden, grab a pint and have a chat with Michelle. Be careful though, once she starts nattering she might not stop…