Nicole Kidman attends Madame Tussauds Blackpool's new A-List 'Awards Party'
Saturday 29th April 2023
alist, awardsparty, alistawardsparty, lewiscapaldi, bradpitt, katewinslet, nicolekidman, angelinajolie, rupaul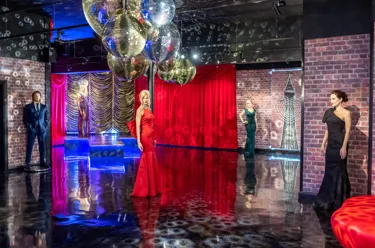 Madame Tussauds Blackpool's 'Awards Party' zone is hosted by Mama Ru, the tallest wax figure ever to feature at the attraction. The guest list boasts a number of A-list stars including Nicole Kidman, who is only available for fans to see over the summer before she returns to Madame Tussauds London.
Celebrity devotees will also, after a highly anticipated wait, be able to come face-to-face with Lewis Capaldi. Somebody to Love star Lewis, unveiled his new wax figure earlier this year by inviting fans to touch his bum!
The new star-studded 'Awards Party' Zone transports fans to a glamorous night out, where they can rub shoulders with the rich and famous and capture plenty of selfies. Visitors will be dazzled by the 'Award's Party' Zone which boasts 222 cabochon lights and 18 glitter balls. To add to the glitz and glamour the celebrities's sartorial styles include circa. 352 diamantes!
Kyle Woodcock, Head of Operations at Madame Tussauds Blackpool, said: "Guests to Madame Tussauds Blackpool's new glamorous A-List Party Zone will feel like they are a VIP attending a star studded awards ceremony. Rubbing shoulders with A-List guests Nicole Kidman, Lewis Capaldi, and RuPaul, plus a whole host of other famous faces. The A-list Zone is the place to be seen.
"Due to her busy filming schedule, Nicole Kidman is only visiting for the summer, so I would encourage fans, keen to secure a selfie with her, to pay a visit soon."
Featuring more than 80 famous faces, Madame Tussauds Blackpool gives visitors the chance to get up close with their heroes, from sporting stars to TV favourites, movie icons, singing sensations and everything in between.
It takes a team of 25 artists to work on one wax figure, spending a total of 800 hours collectively. This includes: 350 hours to sculpt the figure, 187 hours to insert a head of hair and 30 hours to make a set of teeth.
There are over 2,000 wax figures on display around the world, with roughly 150 kg of clay used to sculpt each figure equating to 23 stone, the average weight of a tiger.