Paddy Has Arrived!
Wednesday 30th December 2015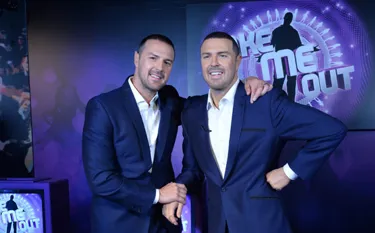 Fans can now leave their light on for funny man, Paddy McGuinness, at Madame Tussauds Blackpool, and get the ultimate selfie as the comedy actor-turned-presenter is the latest celebrity to be immortalised in wax.

The loveable Lancastrian's wax figure was unveiled today (8 July) at Madame Tussauds Blackpool as Paddy came face-to-face with his wax figure for the first time. 

Appearing in a suit made by his tailor, Chris Kerr, along with a white shirt, a smiling Paddy has been captured in a relaxed posture leaning on a podium, to recreate his appearances on Take Me Out.

Paddy is famed for his popular catchphrases that have helped make ITV1's primetime dating show, Take Me Out, must-see Saturday night TV. He shot to fame following roles in Phoenix Nights and Max and Paddy's Road to Nowhere and has since gone on to establish himself as a firm favourite amongst the British public. 

Paddy commented: "It's been a surreal experience having my own wax figure made but a brilliant one. The Madame Tussauds sculptors are miracle workers, what a cracking looking wax figure it is!

"Everything with the figure is spot-on, I'm really proud to have been immortalised in wax. That's a sentence I never thought I'd say. I'm looking forward to showing the kids – I'll be able to go for a brew while the figure keeps an eye on them."

Matthew Titherington, General Manager at Madame Tussauds Blackpool said: "Having Paddy in Blackpool for the launch of his wax figure has been brilliant, we haven't stopped laughing. His figure is going to be hugely popular, we're often asked if Paddy's in the building, so finally we can say yes.

"We're looking forward to seeing visitors pose with Paddy on the Take Me Out set and try out their best chat-up lines."

Forget the island of Fernandos this summer, visitors can now enjoy a day out at the UK's number one seaside resort and get up close and personal with their favourite comedian at Madame Tussauds Blackpool. 

The new figure will join an array of stars from the world of music, comedy, sport and entertainment.