Simon Cowell Given Brand New Figure Replacement
Wednesday 10th February 2016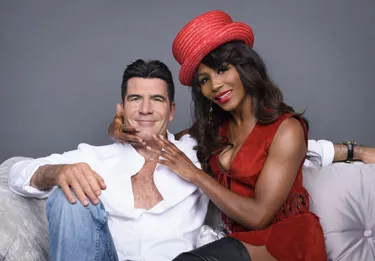 Music mogul and X Factor judge, Simon Cowell, has been given a brand NEW figure replacement and who better to launch the star's new wax figure at Madame Tussauds Blackpool than his glamorous, long-term friend, Sinitta?
Renowned for their closeness, Sinitta was the very first artist Cowell signed and has over the years helped to make some of the biggest decisions in X Factor history, choosing to put through the likes of Leona Lewis, Olly Murs and of course one of the biggest boy bands of all time, One Direction.
Taking her place by his side once again, on a plush sofa in a set reminiscent of LA judge's houses, Sinitta wowed in one of her outlandish yet glamorous outfits that she's so famed for. Posing playfully next to the figure in a little red number and fun top hat that she showcased in one of the very first judges houses episodes, she gave us her thoughts on her best friend's wax figure.
Sinitta said: "Everything is just so perfect and lifelike, from the eyebrows, his ears, the expression in his eyes, he's even got his chest hair, it's just genius."
"I'm completely in awe, it was strange at first because I thought it was going to be a spoof and he'd suddenly go 'Hello darling' because he's just so realistic."
"His hair is spot on, it's a running joke how Simon only trusts one person to cut the "hedge" as we call it, and they've recreated it perfectly. I can't believe it."
"I want to meet Dave, the sculptor who spent so long creating him, as I'm sure he's going to love his wax figure so much that he's going to want one in every room of his house, so he can just talk to himself all day."
Famed for being Television's Mr. Nasty, with classic roll off the tongue lines such as 'It's a no from me', Simon's figure will feature within the 'Big Night In' section in the X Factor judge's houses themed set at the Blackpool attraction. Sat casually reclining on the sofa, dressed in his trademark open buttoned white shirt, with rolled-up sleeves and jeans, guests can sidle up close to his figure and pose as if they themselves are an X Factor judge or contestant.
The creation of a wax figure is a lengthy process and Simon's was no exception. The talented team at Madame Tussauds took four months to perfect the figure and used an astounding x700 hairs to create his iconic chest hair. In total it takes an experienced 20 strong team of sculptors, moulders, colourists and hairstylists to complete the figures, with each one costing approximately £150,000.
Matthew Titherington, General Manager at Madame Tussauds Blackpool said:
"We're delighted to launch Simon's figure, an astounding TV personality, world-famous music producer and a definite heartthrob with the ladies, he's a divisive figure in British entertainment.
"He's been one of the attraction's most popular figures to date and so we're expecting this new casting to be a visitor favourite especially within the new set.
"It was absolutely fantastic to welcome Sinitta to the launch of the figure and see how full of praise she was for the team behind its creation."