This Is What You Came For!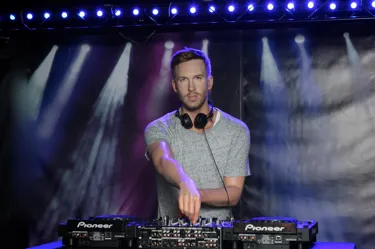 Calvin Harris has officially landed in Blackpool.
The UK first, the wax figure of the "Feel So Close" DJ was unveiled at the attraction today, 5th June, kicking off a very special UK tour.
Launched last year in Berlin, the "How Deep Is Your Love" producer is the latest wax figure to join Madame Tussauds Blackpool on a summer loan – just in time for the festival season.
Before the world-famous producer took up residence on the attraction's Festival Fields Main Stage, the team took him on a tour of the North's favourite seaside town. Where Calvin played an exclusive set of classic hits under the iconic Mirror Ball on Blackpool promenade.
Calvin's wax figure appears doing what he does best – spinning the decks. Dressed in a casual grey T-shirt, black jeans, Adidas Gazelles and headphones slung around his neck; the heartthrob DJ is ready to take centre stage.
General Manager, Matthew Titherington, said: "We are excited to welcome Calvin Harris to Madame Tussauds Blackpool as he's such a favourite amongst UK festival-goers.
"As he's exclusively performing in Las Vegas at the moment, it seemed only right that we brought his wax figure to our very own Festival Fields Main Stage this summer, giving the public a chance to see him in the UK this year."
Since the Scottish DJ burst onto the music scene in 2007 with "Acceptable in the 80s", Calvin has not only won the hearts of fans worldwide but also an impressive number of awards, including a Grammy for his iconic hit, "We Found Love" featuring Rihanna.
If you didn't manage to grab tickets to Glastonbury or Parklife, head to Madame Tussauds Blackpool's very own Festival Fields, where you can enjoy an intimate gig with your favourite pop stars. Plus, get up close and personal with Calvin Harris mixing it up on the decks, alongside fellow Brit superstars, Ed Sheeran and Olly Murs. 
Grab your wellies and your sunnies, and head to see your favourite artists at the place to be this summer – Festival Fields.