Where to Park in Blackpool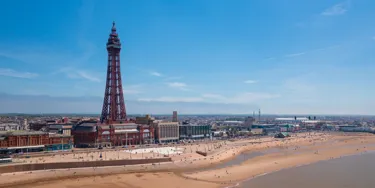 There are a range of options for parking in Blackpool
Blackpool is easily accessible by car and has an abundance of car parks to choose from, whether your destination is The Blackpool Tower on Central Promenade or you're heading to the Pleasure Beach located in South Shore.
Car parks range from short stay and long stay, multi-story, street parking and pay and display, suiting the needs of all kinds of visitors and Blackpool residents.
This article provides information on where to park in Blackpool, including prices and their location. 
Blackpool has a range of council-run car parks
Short-stay and long-stay car park options
There are several short-stay and long-stay car parks located across Blackpool providing residents and visitors easy access into the town centre and Golden Mile.
The two largest car parks in Blackpool town centre are Central car park and Talbot Road multi-storey car park.
Central car park in Blackpool town centre is a 24-hour car park offering a short walk to the shopping centre and central promenade where Blackpool's top family attractions are located, including The Blackpool Tower. Prices start from £3.50 for up to 2 hours, £14 for up to 12 hours and £40 for up to a week.
Located to the east of the town centre is Talbot Road multi-storey car park, which is just a stone's throw away from the main shopping area and promenade. The car park offers overnight parking suitable for those staying in the town centre. It is open seven days a week from 7am to 12 midnight and cannot be accessed outside of these hours, so visitors must keep this in mind when leaving their car. Cars can be left in the car park for up to a week and charges always apply.
Drivers who want to visit areas and attractions on the South Promenade can park in several car parks including South Beach and Bloomfield Road.
South Beach is a 24-hour car park located on the sea front, with 172 car spaces, 11 blue badge spaces and a motorcycle bay. Pay and display prices range from £5.50 for up to 3 hours, to £40 for up to a week.
Bloomfield Road is a pay and display car park, located more in land opposite the Blackpool Football Club Stadium on Seasiders Way. This is also a 24-hour car park with 617 car spaces and 25 Blue Badge spaces. Prices range from £4 for up to 3 hours and £40 for up to a week.
To find out more information on the various car parks located across Blackpool, visit the Council's website.
There is on-street parking available in the town
On-street parking charges
Timings and charges differ depending on where the on-street parking in Blackpool is located.
In the town centre, parking ranges from 70p for up to 20 minutes and £3 for up to 90 minutes
Parking on the Promenade, Princes Way, Bond Street, Watson Road ranges from £1.50 for up to 1 hour and £10 for up to 10 hours
For more details on pricing, please visit the Blackpool Council website.
It is important to note that the on-street parking is classified as 'multi-purpose', so drivers will need to check restrictions stated on signposts located by the bays.
FAQs about parking in Blackpool
Where can I find free on-street parking in Blackpool?
Free on-street parking in Blackpool is limited, particularly around the town centre, where the spaces are likely to fill up quickly during the summer holidays and Illumination season, so early arrival is essential.
The free parking spaces can be found on the following residential streets in the South Shore area:
Bentinck Avenue
Harrowside
Balmoral Road
Arnold Avenue
Broadway
It it expensive to park in Blackpool?
Prices vary across all car parks in Blackpool allowing visitors to park from 3 hours for up to a week. There is free on-street parking available however this is very limited.
Can you park near the Blackpool Tower?
The closest car park to The Blackpool Tower is Hounds Hill shopping centre, located opposite the Tower. Alternatively, visitors can also park in Central car park which is located approximately a 5-minute walk away.
Where can I park overnight in Blackpool?
Each car park in Blackpool has their own rules and regulations so it is always best to check the car park's website prior to your visit.