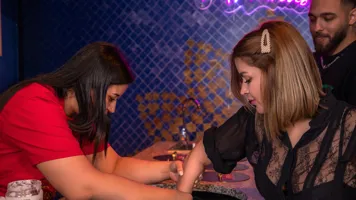 Cast your hand in WAX!
The Wax Hand experience has arrived at Madame Tussauds Dubai! It's a fun, interactive area where you can have your own hand modelled using wax (and decorated!) to take home as a souvenir.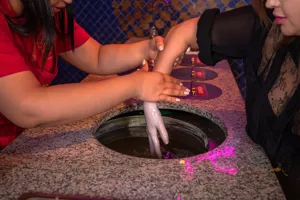 It's easy, safe and fun!
Look at our wall of wax hands for inspiration and strike a pose
Dip your hand into the wax to set the pose (there's no turning back now!).
Choose the colour, or colours (yes you can have more than one) you want your wax hand to be. Feeling bold? Upgrade to a LED wax hand. You can also make your hand last forever with our Forever kits, which makes it indestructible.
It's that easy! Now you have the perfect memento to remember your experience at Madame Tussauds Dubai!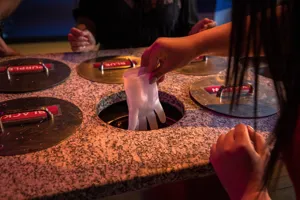 Important Information
Guests must be at least 1.3m in height and aged 8 or above to participate
Due to the skill and precision required for the moulding process, this experience may take some time. Please allow for queuing when you participate
The wax hand experience is subject to availability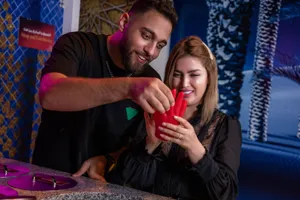 Prices
Single hand: AED 40
Double hand: AED 80 
Four hands: AED 160
To purchase your Wax Hand simply buy your entry ticket and then visit the wax hand station after the A-List Party.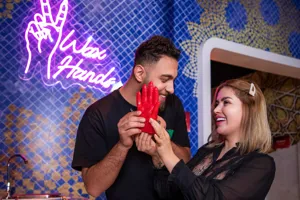 FAQs
What is the Wax Hand Experience?
The Wax Hand experience is an interactive area where guests can have their own hand modelled using wax, to take home as a souvenir! This experience is not included in the Standard Admission ticket and can be purchased inside the attraction.
Is the Wax Hand Experience safe?
Yes! We use a wax specifically designed for this purpose. It is similar to the wax treatment that you receive at a spa. It can be therapeutic for your skin.
Can it melt?
It is wax, so it can melt. Avoid direct sunlight, do not store on the windowsill or anywhere that might get hot. Keep it in a cool place. If you think it will get too hot in your house, you can store it in the refrigerator or a cool place.