Balqees Fathi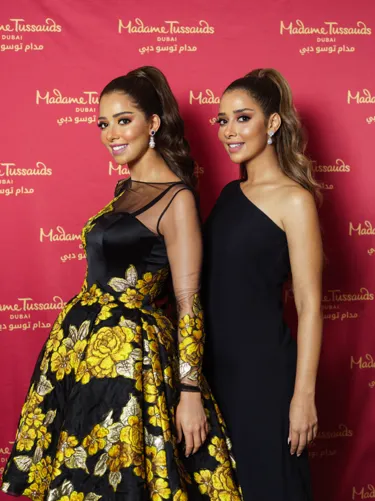 The world-famous wax attraction, opening in Bluewaters, Dubai, has held
its first official side-by-side unveiling
Dubai, United Arab Emirates, 17 August 2021: Already established as one of the most eagerly anticipated openings of 2021, Madame Tussauds Dubai has today offered a further tantalising glimpse of what visitors have to look forward to by revealing its first Middle East wax figure, the much-loved Emirati-Yemeni music star, Balqees Fathi.
With her unique combination of talent, beauty, glamour, strong work ethic and dedication to championing women's rights, Balqees is an apt and much-deserved addition to the iconic Madame Tussauds attraction.  Since rising to fame in 2013 she has enjoyed huge musical success, releasing three record-breaking albums and travelling the globe as a member of the UAE NSO Symphony Orchestra. Her latest hit "Entaha" meanwhile is already being touted as 'the' song for summer 2021 in the Arab world. What sets Balqees apart further though, and makes her recognition here all the more deserving, is her pioneering commitment to gender equality and supporting women.
In what has been described as a magical moment, Balqees met her wax figure for the very first time at a special 'side by side' unveiling held in partnership with Madame Tussauds at the immersive luxury lifestyle resort, Caesars Palace Dubai, which is at the heart of Bluewaters Island.
Balqees Fathi, singer comments, "I feel privileged to be the first Arab artist to stand side by side my wax figure at the iconic "Madame Tussauds"- Dubai. I am overwhelmed with the incredible likeness that this wax figure holds to my physical appearance and to the impeccable attention to details that captures my personality. I cannot wait for people to visit Madame Tussauds and to finally be able to enjoy this unique experience in the Arab world."  
Dressed in an exquisite, fittingly opulent gown and with her trademark glowing smile, Balqees' wax figure cleverly captures both her looks and personality, while the accolade itself cements her position as a member of Arab music royalty. Balqees' figure will be amongst the most famous movie stars and musicians from around the globe in the extravagant, A-list party room, which is styled as a glamorous, desert oasis. Guest can pose with Balqees before hitting the jewel of the room, the interactive dance floor, and show off their best moves while the DJ plays the latest hits.
Sanaz Kollsrud, General Manager of Madame Tussauds Dubai comments, "We are thrilled to reveal our first side-by-side and offer a glimpse into the magic that is Madame Tussauds. Balqees is a music icon from the region, and we can't wait for our guests to meet her and feel the fame when they step into the attraction when it opens this year."
A huge amount of effort went into crafting Balqees' incredibly lifelike wax figure and saw a team of expert Madame Tussauds' sculptors travelling to Dubai to document 500 of her precise measurements, before setting to work back in London, spending three months crafting the figure by hand and even inserting real hair, strand by strand.
Located within the popular island destination Bluewaters, Madame Tussauds Dubai is the first ever Madame Tussauds experience in the GCC and is one of the most talked about and highly anticipated attractions to come to the UAE.
Now, the wait is nearly over. The world-renowned attraction is set to open its doors later this year and will provide an interactive experience like no other, giving visitors the unique opportunity to rub shoulders with their favourite celebrities, experience a taste of fame and take photographs with 60 global stars, including 16 brand new figures from the Middle East.
Whether those that visit are tourists or residents, fans of sport, movies, music, history buffs or political experts, the family-orientated attraction will offer something for everyone, not to mention the ultimate selfie opportunity.
Madame Tussauds Dubai will be located next to Ain Dubai, the world's largest observation wheel and will further enhance the area's reputation as one of Dubai's most attractive and vibrant spots.
Merlin Entertainments is committed to bringing life enhancing experiences which inspire and influence people to the region and Madame Tussauds is testament to their global reach
For press enquiries contact:
Jennifer Love, Senior Account Director
+971 52 968 7628
Brazen MENA
About Madame Tussauds:
Madame Tussauds has been inviting people to walk the red carpet and get closer to the revered – and feared – for over 250 years. With over 24 attractions in the world's top destination cities, Madame Tussauds is dedicated to giving millions of visitors the opportunity to mingle with the mighty from A-listers to music legends, heroes of sport, to infamous world leaders. Today, the attraction continues to partner with the global icons of a generation to create astonishing lifelike figures from sittings and offer exciting and interactive experiences to ensure guests have never felt closer to fame. The GCC's new attraction in Dubai is location on Bluewaters Island, Dubai's latest vibrant lifestyle destination, and features 60 wax-figures with 16 being notable celebrities from the region.
See https://www.madametussauds.com/dubai/ for more information and follow Madame Tussauds on Instagram @tussaudsdubai
Twitter @Tussauds_Dubai
Facebook Madame Tussauds Dubai
About Merlin Entertainments Limited:
Merlin Entertainments is a global leader in location-based, family entertainment. As Europe's number one and the world's second-largest visitor attraction operator, Merlin operates 129 attractions, 21 hotels and 6 holiday villages in 24 countries and across 4 continents. Merlin's purpose is to deliver memorable experiences to its millions of guests around the world, through its iconic brands and multiple attraction formats, and the commitment and passion of its employees. 
See www.merlinentertainments.biz for more information and follow on Twitter @MerlinEntsNews.
About Bluewaters:
Bluewaters blends residential, retail, hospitality, leisure and entertainment experiences. The idyllic waterfront destination enjoys multi-mode transport options that offer tourists and residents the opportunity to reach the island by land or sea, with basement parking providing ample space. It is connected to the bustling mainland via a direct road to Sheikh Zayed Road and a 265-metre pedestrian bridge links the island to The Beach opposite JBR.
About Caesars Palace Dubai
Caesars Palace Dubai is an immersive luxury lifestyle resort located in the heart of the Bluewaters community. Offering a curated selection of unforgettable experiences for families and couples, the hotel is renowned for its contemporary design and uninterrupted views of the Arabian Gulf and Dubai's skyline.
Positioned at the western edge of Bluewaters for stunning sunset views, the resort has the ambiance of a sleek island getaway complete with temperature-controlled pools, luscious palm tree-lined grounds and a pristine 500-metre private white sandy beach.
Home to an array of five-star amenities, guests can dine at some of the city's best restaurants, helmed by Michelin-starred chefs, relax and rejuvenate at the award-winning Qua Spa and enjoy state-of-the-art fitness facilities. Visitors can experience the ultimate daycation at stylish beach club Cove Beach, check out The Rotunda, the centre of entertainment, or make use of the Caesars Forum, a one-of-a-kind meetings and events venue.
Offering a diverse portfolio of luxury accommodation, the resort comprises two stunning beachfront locations, Palace and Julius, plus The Residences, which are made up of chic apartments with panoramic island views.
Caesars Palace Dubai is a joint venture between Caesars Dubai, LLC, an indirect subsidiary of Caesars Entertainment Corporation, and Dubai Holding.
For bookings or more information about Caesars Palace Dubai, please visit caesars.com/dubai.