Huda and Mona Kattan
Tuesday September 20th 2022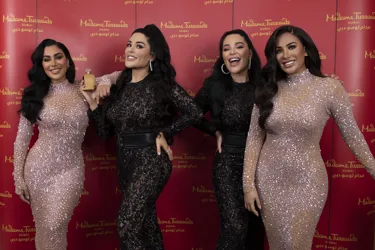 Middle Eastern entrepreneurs and icons of the international beauty world Huda and Mona Kattan are the latest personalities to be immortalised in wax
Dubai, United Arab Emirates, 20 September 2022: Madame Tussauds Dubai has today revealed that wax figures of Huda Kattan (CEO, Founder & Chairwoman of Huda Beauty) and Mona Kattan (Co-Founder & Global President of Huda Beauty, KAYALI & HB Investments) are the latest figures to join a growing pool of hand-picked, exclusive-to-the-region Middle Eastern stars at the world-renowned attraction on Bluewaters.
In the 11 months since opening, Madame Tussauds Dubai has firmly established itself as a must-visit destination, consistently wowing both tourists and residents alike. While the legendary attraction boasts an impressive array of wax figures depicting celebrities from stage and screen, renowned historical personalities, global sporting greats and world leaders, for many visitors it's the chance to encounter popular figures from the Middle East that is the major draw.
As always, attention to detail has proved crucial to the creation of their incredibly lifelike figures, with Madame Tussauds' expert sculptors crafting individual elements by hand to ensure absolute authenticity.
The two beauty icons and their respective styling teams have also played a pivotal role here; Huda's glamorous, much-emulated make up has been recreated with precision by the Madame Tussauds artists who worked closely with Huda by selecting Huda Beauty products which were then recreated and used as colour references. Her doppelganger figure wears a dazzling floor length, one-of-a-kind gown by haute couture designer Yousef Al Jasmi. Huda's personal hair stylist has been on hand throughout the process to ensure that her signature hairstyle is perfectly imitated, while elegant, crystal-embellished René Caovilla wrapround sandals complete the look.
Mona meanwhile has provided invaluable input into the creation of her own sculpture, offering insights on how to achieve the ideal volume and fullness to her cascading locks and donating the very contact lenses that she wore for her sittings, as well as a pair of 12cm high black strappy heels. Her wax figure is dressed in a striking black jumpsuit by British-Lebanese designer Nadine Merabi and positioned holding a bottle of 'KAYALI Invite Only Amber | 23', one of the most popular fragrances in the KAYALI range.
Now wax figures of the two make-up mogul sisters will be joining the likes of Victoria Beckham and Cara Delevingne in Madame Tussaud's most stylish area of all – the Fashion Zone, where they have their own designated space. Taking inspiration from the Huda Beauty Covent Garden Pop Up, the space is fitted out with a shimmering, metallic backdrop; and taking centre stage is the metallic throne, where guests can sit in the spotlight and get an instagrammable shot with the beauty icons.
Huda Kattan comments, "I am so honored to have my very own wax figure at Madame Tussauds! I feel so fortunate to be sharing a space with global icons, but more importantly, my sister Mona. I have so much appreciation for all the phenomenal people and talents who made this possible. They are the drivers behind the wheel."
Mona Kattan comments, "Being given this opportunity was so surreal and incredible. It was amazing to be involved in the whole process to bring this to life! I am super excited about the reveal of my Madame Tussauds wax figure. This was such an inspiring and humbling experience from beginning to end, and being able to share it with Huda makes it even more special."
The side-by-side reveal took place at the showstopping Caesars Palace Dubai, located near the attraction on Bluewaters. The private and intimate event saw the Middle Eastern entrepreneurs come face to face with their lifelike wax figures for the very first time.
Along with their sister Alya, Huda and Mona Kattan founded Huda Beauty in 2013. Today the cosmetics line is one of the fastest-growing make-up brands in the world, renowned for its remarkable core collection and in particular, its cult status-holding, breakthrough lash products. Huda and Mona are meanwhile firmly established as two of the most well-known and admired businesswomen in the region.
As well as being a highly influential blogger famed for her viral beauty hacks and must-watch tutorials (with over 50 million followers the @hudabeauty account is the most followed cosmetics brand on Instagram), billion-dollar business beauty mogul Huda Kattan is a hugely accomplished entrepreneur, social activist and ardent champion and backer of female-led businesses. The internationally respected beauty authority is so well known on social media that her name has become nigh on superfluous, and she has been named one of the 25 Most Influential People on the Internet by Time Magazine and was also listed as one of America's Richest Self-Made Women by Forbes.
Renowned for her sharp business mind, Mona Kattan is a key driving force behind the continued success and rapid expansion of Huda Beauty, overseeing all areas of brand strategy and product innovation. As well as being a force to be reckoned with on social media (she regularly inspires her 2.6 million Instagram followers with her smart, engaging beauty content and positive energy), Mona is the founder of KAYALI, a line of luxury layering fragrances and Huda Beauty's first sister brand. After a decade in the industry, Mona is now recognized as a global social media personality, beauty mogul, and inspirational entrepreneur. Mona was named Instagrammer of the Year by the Fragrance Foundation Award, and presented with the Global Gift Women Empowerment Award in Dubai.
With many returning from summer vacations, there really is no better time to visit Madame Tussauds Dubai which thanks to its seven themed zones, unique interactive elements and a fabulous selection of staggeringly lifelike wax figures, it provides hours of magical entertainment for all ages.  
For press enquiries contact:
Jennifer Love, Senior Account Director
+971 52 968 7628
Brazen MENA
About Madame Tussauds:
Madame Tussauds has been inviting people to walk the red carpet and get closer to the revered – and feared – for over 250 years. With over 24 attractions in the world's top destination cities, Madame Tussauds is dedicated to giving millions of visitors the opportunity to mingle with the mighty from A-listers to music legends, heroes of sport, to infamous world leaders. Today, the attraction continues to partner with the global icons of a generation to create astonishing lifelike figures from sittings and offer exciting and interactive experiences to ensure guests have never felt closer to fame. The GCC's new attraction in Dubai is location on Bluewaters, Dubai's latest vibrant lifestyle destination, and features 60 wax-figures with 16 being notable celebrities from the region.
See https://www.madametussauds.com/dubai/ for more information and follow Madame Tussauds on Instagram @tussaudsdubai
Twitter @Tussauds_Dubai
Facebook Madame Tussauds Dubai
About Merlin Entertainments
Merlin Entertainments is a global leader in location-based, family entertainment. As Europe's number one and the world's second-largest visitor attraction operator, Merlin operates 138 attractions, 23 hotels and 6 holiday villages in 24 countries across 4 continents. Merlin's purpose is to deliver memorable experiences to its millions of guests around the world, through its iconic brands and multiple attraction formats, and the commitment and passion of its employees. 
See www.merlinentertainments.biz for more information and follow on Twitter @MerlinEntsNews.
About Bluewaters:
Bluewaters blends residential, retail, hospitality, leisure and entertainment experiences. The idyllic waterfront destination enjoys multi-mode transport options that offer tourists and residents the opportunity to reach the island by land or sea, with basement parking providing ample space. It is connected to the bustling mainland via a direct road to Sheikh Zayed Road and a 265-metre pedestrian bridge links the island to The Beach opposite JBR.
About Caesars Palace Dubai:
Caesars Palace Dubai is an immersive luxury lifestyle resort located in the heart of the Bluewaters community. Offering a curated selection of unforgettable experiences for families and couples, the hotel is renowned for its contemporary design and uninterrupted views of the Arabian Gulf and Dubai's skyline.
Positioned at the western edge of Bluewaters for stunning sunset views, the resort has the ambiance of a sleek island getaway complete with temperature-controlled pools, luscious palm tree-lined grounds and a pristine 500-metre private white sandy beach.
Home to an array of five-star amenities, guests can dine at some of the city's best restaurants, helmed by Michelin-starred chefs, relax and rejuvenate at the award-winning Qua Spa and enjoy state-of-the-art fitness facilities. Visitors can experience the ultimate daycation at stylish beach club Cove Beach, check out The Rotunda, the centre of entertainment, or make use of the Caesars Forum, a one-of-a-kind meetings and events venue.
Offering a diverse portfolio of luxury accommodation, the resort comprises two stunning beachfront locations, Palace and Julius, plus The Residences, which are made up of chic apartments with panoramic island views.
Caesars Palace Dubai is a joint venture between Caesars Dubai, LLC, an indirect subsidiary of Caesars Entertainment Corporation, and Meraas.
For bookings or more information about Caesars Palace Dubai, please visit  caesars.com/dubai.