Kris Fade
Wednesday September 29th 2021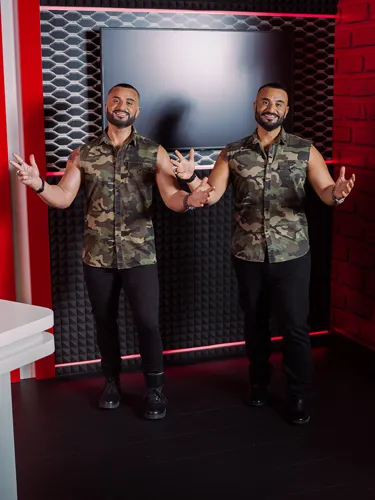 The much-loved star came face-to-face with his like-for-like figure in an exciting pre-launch event yesterday, ahead of the opening of the globally-renowned attraction on October 14th
Dubai, United Arab Emirates, (29th September 2021): More than a million of us tune into his breakfast show, hundreds of thousands follow him on Instagram, and fans love to throw his signature catchphrases into conversation: Kris Fade is nothing short of a UAE legend.
In one of the most exciting pre-launch revelations yet, Madame Tussauds Dubai today announced that a wax figure of the radio host, serial entrepreneur, social media star and motivational speaker will take centre stage in the aptly named Media Room (one of seven themed rooms within the attraction), when the famed tourist attraction opens its doors to the public in just two weeks' time.
Yesterday Kris Fade was the very first celebrity to have his wax figure reveal at a very special side by side event inside the attraction itself. Accompanied by close friends and family, including his two daughters and his fiancée Brianna, the unveiling was a thrilling one for all involved. Madame Tussauds' expert sculptors have spent months creating and crafting the figure by hand and Kris Fade himself donated his own clothes for the model to sport, resulting in a seriously uncanny likeness that provoked much excitement amongst the intimate audience.
In a prime example of what will make a visit to the region's hottest tourist attraction an entirely unique, experiential one, Madame Tussauds have perfectly recreated Kris Fade's Virgin Radio studio, with the booth itself flanked by screens streaming Kris Fade-related content and footage of the Golden Visa-receiving star. This means that not only can guests have their photo taken with Kris Fade, they'll be able to feel part of his hugely popular, long-running show. In what is quite simply a dream opportunity for Kris Fade fans and aspiring disc jockeys, visitors can step inside his studio, spin the dials and chat away into the radio mics. The highlight of the experience is likely to be the opportunity to hit a special button and be regaled with his famous sayings including, of course, the well-known and always enthusiastically delivered, "Hello Mum! Hello Dad!"
Kris Fade, comments "It's an absolute honour to be immortalised, as they say, by Madame Tussauds. Growing up as a kid I remember going to the London attraction and I was in awe of how real the figures looked.  Never did I think that I would now be in a Madame Tussauds attraction where people would come and take a photo with me. I'm truly blessed by this opportunity, and I will remember this for the rest of my life. I am so grateful to be part of this globally renowned brand."
Housed within the stunning lifestyle and entertainment destination Bluewaters and situated next to the largest observation wheel in the world, Ain Dubai, Madame Tussauds Dubai will welcome visitors from the 14th October.
Those keen to ensure that they are amongst the first to embrace the magic of what is a global phenomenon can book special preview tickets for the 8th and 9th now. Guests will be able to explore the attraction and encounter an awe-inducing array of 60 global superstars from the world of music, movies, fashion, sport, history, politics, fiction and more by visiting the official website: https://www.madametussauds.com/dubai/ Adults (11+) AED135, Children (3-11) AED110, Under 3s free of charge.
Notes:
Opening hours:
Sunday – Thursday 12pm – 8pm (last entry 7:45pm)
Friday, Saturday & Public Holidays 10am-8pm (last entry 7:45pm)
Ticket prices:
(Adults (11+) AED135
Children (3-11) AED110
Under 3s- free of charge
For press enquiries contact:
Jennifer Love, Senior Account Director
+971 52 968 7628
Brazen MENA
About Madame Tussauds:
Madame Tussauds has been inviting people to walk the red carpet and get closer to the revered – and feared – for over 250 years. With over 24 attractions in the world's top destination cities, Madame Tussauds is dedicated to giving millions of visitors the opportunity to mingle with the mighty from A-listers to music legends, heroes of sport, to infamous world leaders. Today, the attraction continues to partner with the global icons of a generation to create astonishing lifelike figures from sittings and offer exciting and interactive experiences to ensure guests have never felt closer to fame. The GCC's new attraction in Dubai is location on Bluewaters, Dubai's latest vibrant lifestyle destination, and features 60 wax-figures with 16 being notable celebrities from the region.
See https://www.madametussauds.com/dubai/ for more information and follow Madame Tussauds on Instagram @tussaudsdubai
Twitter @Tussauds_Dubai
Facebook Madame Tussauds Dubai
About Merlin Entertainments Limited:
Merlin Entertainments is a global leader in location-based, family entertainment. As Europe's number one and the world's second-largest visitor attraction operator, Merlin operates 129 attractions, 21 hotels and 6 holiday villages in 24 countries and across 4 continents. Merlin's purpose is to deliver memorable experiences to its millions of guests around the world, through its iconic brands and multiple attraction formats, and the commitment and passion of its employees. 
See www.merlinentertainments.biz for more information and follow on Twitter @MerlinEntsNews.
About Bluewaters:
Bluewaters blends residential, retail, hospitality, leisure and entertainment experiences. The idyllic waterfront destination enjoys multi-mode transport options that offer tourists and residents the opportunity to reach the island by land or sea, with basement parking providing ample space. It is connected to the bustling mainland via a direct road to Sheikh Zayed Road and a 265-metre pedestrian bridge links the island to The Beach opposite JBR.