Bae Yong Joon
"Don't worry. Relax is the most effective way to handle anything."
Madame Tussauds, K-Wave Zone
Kim Soo-Hyun
"Please keep an eye on me over the next ten years, I will become an excellent actor."
Madame Tussauds, K-Wave Zone
Nichkhun Horvejkul
"Everything is possible if you try enough so if something doesn't work out, you're not trying enough. "
Madame Tussauds, K-Wave Zone
Siwon Choi
"I hope to be remembered in the future because I am a good actor, good singer and good person."
Madame Tussauds, K-Wave Zone
Suzy Bae
"I wish to stay joyful and do my very best for every single thing - this is how I want to be perceived as a professional actress."
Madame Tussauds, K-Wave Zone
TVXQ!
"I think it's really cool when people who don't forget their dreams and ideals even as they grow old."
Madame Tussauds, K-Wave Zone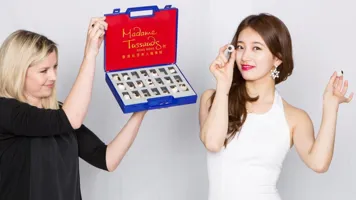 Meet Your Favourite Korean Celebrities!
Inspired by an unmatched devotion, the Korean Wave is taking Hong Kong by storm! Madame Tussauds Hong Kong's K-Wave Zone provides the perfect opportunity for fans to explore the vibrant city of Seoul with their favourite Korean celebrities!
Re-enact your fantasy scenes with heartthrob Kim Soo-hyun from the mega-popular television drama, My Love from the Star, model-turned-actor Lee Jong-suk or handsome, award-winning Park Hae-jin.
Ready to hit the club? Step onto our ultra-fun LED stage and learn how to move like a Korean pop star with our unique LED Dancing Game!