World-First Illustrated Figure
Madame Tussauds, Art Gallery
Yayoi Kusama
"Love for world peace."
Madame Tussauds, Art Gallery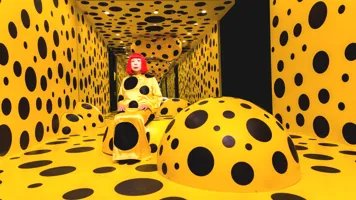 Unlock Our Latest Instagrammable Checkpoint!
Longtime admirer of the Avant Garde Japanese contemporary artist, Yayoi Kusama? You'll go wild over one of her insanely popular infinity room concepts! Decorated in iconic yellow polka dots and gourd motifs, this art installation invites you to embark on a visual journey you won't forget!
Featuring a ground-breaking cross-cultural collaboration between world-famous pop diva Lady Gaga and Hong Kong indie rocker Jan Curious, you'll love the multi-dimensional feel of this playful black and white art installation! This one-of-a-kind installation is the perfect backdrop for some head-turning photos that will have all your friends talking!