STRUT WITH THE STARS!
Experience the world's most fascinating celebrities with interactive themed rooms featuring over 100 of the most iconic stars in sports, movies, music, Las Vegas history, a Marvel 4D Cinema Experience, and more.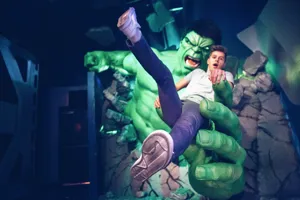 LOCAL SCHOOL FIELD TRIPS (Tax Exempt Schools)
Bring your class on the ultimate star-studded field trip! Must submit tax exempt form with booking.
Discounted rates are available for local organized schools serving children K-12
Must have a minimum of 15 people to qualify for school rates
Max people per group is 100
Online, advanced pre-paid reservations are required a minimum of 14 days prior to your visit 
Add Marvel 4D Movie Experience for $5 more per person
One adult chaperone must accompany every 10 children
For every 20 student tickets purchased, receive 1 free adult chaperone ticket
Booking Process:
Tax exempt groups must submit proper documentation before receiving access to the online booking portal. Please email info@madametussaudslv.com your tax exempt form and our team will be in touch with details on how to complete your group reservation
BOOKING POLICIES:
Discounted rates are available to pre-booked, organized local school groups. Groups that arrive without a reservation are not guaranteed entry and will be charged the walk-up admission rate.
Minimum number of people required to receive group pricing is 15
School groups receive 1 adult admission for every 20 paying children
All reservations must be made online through the secure Online Booking Portal
Group tickets are timed & dated
Payments must be made with a credit card at time of booking.
Payment types accepted: Visa, MasterCard, American Express, and Discover.
Additional tickets cannot be added to your original reservation after your order is made. We suggest booking for the maximum amount of people anticipated in your group.
If you end up having fewer individuals than originally booked, you can contact the Group Sales Department 48 hours in advance for a partial refund of those tickets.
If additional tickets are required upon arrival, the higher walk up group rate may apply.
Paid reservation may be cancelled or rescheduled any time prior to 48 hours of your original visit date.
Tickets expire on the date and time they are purchased for.