Celebrating Black History Month
Saturday February 1st 2020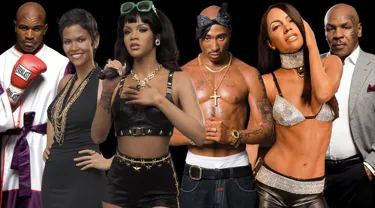 We're inviting you to celebrate Black History Month by meeting some of the most influential figures in music, film, and sports while highlighting the impact they've made in their respective industries, helping shape the world we live in today.
During the month of February, we're inviting you to celebrate Black History Month by meeting some of the most influential figures in music, film, and sports while highlighting the impact they've made in their respective industries, helping shape the world we live in today.
Read on for info you may or may not know about some of our highlighted figures below!
Beyoncé Giselle Knowles-Carter – Stage name Beyoncé is after mother's maiden name

Born and raised in Huston, Texas – September 4th, 1981 (age 38) Virgo
Lead singer of Destiny's Child was once known as Girl's Tyme
Was on the Artist 100 Char for 193 weeks (Billboard)
Recorded 63 Hot 100 Songs (Billboard)
The first female artist to debut at No.1 on the Billoard 200 with her first five studio albums
Self titled studio album was the fastest selling album distributed in iTunes history, having sold more than 80,000 copies in three hours
Halle Maria Berry – born Maria Halle Berry (legally changed at age 5)

Born Cleveland, Ohio – August 14th, 1966 (53) Leo
In 2001, became the first African-American woman to win an Academy Award for Best Actress (Monster Ball)
Attended an all white public school which she was a subject to racism which greatly influenced her desire to excel
Before an actress was a model – in the early 1908s entered beauty pageants: finishing as the first runner up in Miss USA 1985 and coming sixth in the Miss World 1986
Breakthrough film role was in Boomerang (1992)
Playboy magazine named her among the 100 Sexiest Women of the Century (1998) . People magazine's 50 Most Beautiful People in the World (2008) . Esquire magazine's Sexiest Woman Alive (2008)
Jamie Fox – born Eric Marlon Bishop

Born Terell, Texas (at the time was a racially segregated community) – December 13th, 1967 (52) Sagittarius
Adopted by his mother's adopted parents when he was less than a year old
Started as cast member of In Living Color before landing his own sitcom in 1996 - 2001
Began playing piano at age 5
Portrayed Ray Charles in movie Ray (2004) – winning the Academy Award for Best Actor and the BAFTA Award for Best Actor and Leading Role
3rd male in history to receive two acting Oscar nominations in the same year for two different movies (Collateral and Ray)
Was on Artist 100 chart for 2 weeks (Billboard)
Recorded 15 Hot 100 Songs (Billboard)
Evander Holyfield

Born Atmore, Alabama – October 19th, 1962 (57) Libra
Reigned as Undisputed Champion at Cruiserweight in late 1980s and at Heavyweight in the early 1990s – only boxer in history to win the Undisputed Championship in two weight classes
Before turning professional he won 160 bouts, 76 of them by knockout
Began boxing at age seven. At age 13 qualified to compete in his first Junior Olympics. By age 15 became Southeastern Regional Champion – winning this tournament and the Best Boxer Award.
By 1990 was Number 1 contender for the World Heavyweight Champion for two years
Age 20 repped the US in 1983 Pan American Games where he won Silver. Following year he was the National Golden Gloves Champion and won bronze in the 1984 Summer Olympic Games.
Don King – Donald King

Born Cleveland, Ohio – August 20th, 1931 (88) Leo
Promoted some of the most prominent names in boxing including Muhammad Ali, Joe Frazier, George Foreman, Larry Holmes, Mike Tyson, and Evander Holyfield to name some
Was pardoned in 1983 with letters of support from Jesse Jackson, Coretta Scott King, George Voinovich, Art Modell, Gabe Paul, and a few others
Managed The Jacksons' 1984 Victory Tour
Elected into the Gaming Hall of Fame in 2008
Purchased Cleveland based weekly newspaper serving the African American community in Ohio, Call and Post, as of 2011 continued as its publisher
1987 made a Mason-on-Sight by Grand Master Odes J. Kyle Jr. of the Most Worshipful Prince Hall Grand Lodge of Ohio; making him a Price Hall Freemason
Promoted over 500 world championship fights. Nearly 100 boxers have earned $1 million or more in Don King Productions promoted fights.
Conducted an annual turkey giveaway each Christmas for several years, in which he distributes two thousand free turkeys to needy South Floridians
Shaquille O'Neal – Shaquille Rashaun "Shaq" O'Neal

Born Newark, New Jersey – March 6th, 1972 (47) Pisces
Lead the Robert G. Cole Highscool in San Antonio, TX team to a 68-1 record over two years and helped the team win the state championship during his senior year – his 791 rebounds during the 1989 season remains a state record for a player in any classification
Studied business at Louisiana State University
In 1991 while playing for Brown at LSU was two time All American, two time SEC Player of the Year, and received the Adolph Rupp Trophy as NCAA men's basketball player of the year
Has a 900 pound bronze statue located in front of the LSU Tigers Basketball Practice Facility
First player to be named Player of the Week in his first week of NBA
During his rookie season averaged 23.4 points on 56.2% shooting, 13.9 rebounds, and 3.5 blocks per game – Named the 1993 NBA Rookie of the Year and was the first rookie to be voted an All Star started since Michael Jordan in 1985
2005 was given honorary US Deputy Marshal title and named spokesman for the Safe Surfin Foundation; he served an honorary role in the task force of the same name, which tracks down sexual predators who target children on the internet
Aaliyah – Aaliyah Dana Haughton

Born Brooklyn, New York – January 16th, 1979. Died Marsh Harbour, Abaco Islands, The Bahamas – August 25th, 2001 (22) Capricorn
First gained recognition at age 10 on TV show Star Search and later that year performed alongside Gladys Knight
Recorded 15 Hot 100 Songs (Billboard)
The song Try Again topped the Billboard Hot 100 solely on airplay, making her the first artist in Billboard history to achieve this goal
Billboard lists her as the tenth most successful female R&B artist of the past 25 years, and the 27th most successful in history
Performed Journey to the Past at 1998 Academy Awards ceremony and became the youngest singer to perform at the event
The music video for Try Again won the Best Female Video and Best Video from a Film awards at the 2000 MTV Video Music Awards – It also earned her a Grammy Award nomination
Biggie Smalls – Christopher George Latore Wallace

Born and raised in Brooklyn, New York – May 21st, 1972. Died Los Angeles, California – March 9th, 1997 (24) Gemini
Had to change his name to Notorious B.I.G (stands for Business Instead of Gain) for legal reasons
Won several awards as an English student at All Saints Middle School – later transferred from Bishop Loughlin Memorial High School to George Westinghouse Career and Technical Education High School, which future rappers such as DMX, Jay-Z, and Busta Rhymes were also attending
Album Ready to Die was certified gold within two months, double platinum the following year and eventually quadruple platinum
One More Chance reached No. 2 on the Billboard Hot 100 char, and was certified Platinum
By the end of 1995, Biggie was the biggest selling solo male artist on the Billboard charts – not only in hip-hop, but in pop and R&B too
Life After Death was released after his death and would be nominated for 3 Grammy awards – for best rap album, best solo rap performance for Hypnotize, and best performance by a duo or group for Mo Money Mo Problems – album was certified diamond in 2000 after selling more than 10 million copies
Tupac Amaru Shakur – born Lesane Parish Crooks "2Pac"

Born Manhattan, New York – June 16th, 1971. Died Las Vegas, Nevada – September 13th, 1996 (25) Gemini
Many of the people in his life were involved with the Black Liberation Army and the Black Panther Party
After completing his second year at Paul Laurence Dunbar High School he transferred to Baltimore School for the Arts where he studied acting, poetry, jazz and ballet
Developed a close friendship with Jada Pinkett Smith saying – "Jada is my heart. She will be my friend for my whole life".
Was a roadie and backup dancer with hip hop group Digital Underground in 1990
Released a total of 11 platinum albums: 4 during his career, 7 released posthumously. To date he has sold 75 million records worldwide.
Michael Jackson – Michael Joseph Jackson

Born Gary, Indiana – August 29th, 1958. Died Los Angeles, California – June 25th, 2009 (50) Virgo
Off The Wall (1979 – his fifth solo album) established him as a solo performer
1982 – his sixth solo album – Thriller is the best selling album in history getting seven Top 10 Hits/ Album stayed on the charts for 80 weeks, holding the No. 1 spot for 37 weeks – Garnered 12 Grammy Award nominations and notched eight wins, both records
Was on Artist 100 Chart for 238 weeks (Billboard)
Has recorded 51 Hot 100 Songs (Billboard)
Neverland Ranch was put on the market in 2015 for only $100, then later relisted for $31 million in early 2019
Stevie Wonder – Stevland Hardaway Morris

Born Saginaw, Michigan – May 13th, 1950 (69) Taurus
Made his recording debut at age 11
Fingertips was No. 1 on the Billboard Hot 100 when he was 13 – making him the youngest artist ever to top the chart
He's had 10 US number one hits on the pop charts as well as 20 R&B number one hits and has sold over 100 million records. 19.5 mill of which are albums. He is one of the top 60 best selling music artists with combined sales of singles and albums.
1996 For Your Love reached the top 20 R&B and earned two Grammys, that same year he received the Grammy Lifetime Achievement Award
Long time advocate for improving services for the blind and those with disabilities. In connection with the International Day of Persons With Disabilities, he was named United Nations Messenger of Peace in 2009.
2014 reveiced the Presidential Medal of Freedom from President Barack Obama
Jimi Hendrix – James Marshall "Jimi" Hendrix (born Johnny Allen Hendrix)

Born Seattle, Washington – November 27th, 1942. Died Kensington, London, UK – September 18th, 1970 (27) Sagittarius
Enlisted in the US Army in 1961 while training as a paratrooper, while still playing in band, he served in the army til 1962 where he was honorably discharged after injuring himself during a parachute jump
Played backup for performers such as Little Richard, B.B. King, Sam Cooke, and the Isley Brothers
In 1967 he won over American music fans with his performance at the Monterey Pop Festival, which ended with him lighting his guitar on fire
Prince – Prince Rogers Nelson

Born Minneapolis, Minnesota – June 7th, 1958. Died Chanhassen, Minnesota – April 21st, 2016 (57) Gemini
Wrote his first song Funk Machine on his father's piano at age 7 – he taught himself piano, guitar, and drums
1984 Purple Rain album was released which also served as the soundtrack to the film, garnered an Academy Award for Best Original Song Score
1978 For You album notes that Prince wrote, produced, arranged, composed, and played all 27 instruments on the recording. Except for song Soft and Wet which reached No. 12 on the Hot Soul Singles chart and No. 92 on the Billboard Hot 100. Song Just as Long as We're Together reached No. 91.
1979 his self titled album was No. 4 on the Billboard Top R&B/Black Albums charts and No. 22 on the Billboard 200, AND went Platinum. Contained two R&B hits: Why You Wanna Treat Me So Bad? and I Wanna Be Your Lover which sold over a million copies, and reached No. 11 on the Billboard Hot 100 and No. 1 for two weeks on the Hot Soul Singles chart.
In 1992 he signed a record $100 million dollar deal with Warner Bros., which was considered "the largest recording and music publishing contract in history" at the time and allowed him freedom to pursue TV, film, book, and merchandising deals separately.
2004 he returned to the limelight to perform the Grammy Awards with Beyonce, that same year he was inducted into the Rock and Roll Hall of Fame. That spring he released Musicology that had the top concert draw in the US. It also won two Grammys.
Found dead at his Paisley Park compound in MN, his ashes were placed into a custom 3D printed urn shaped like the Paisley Park estate. The urn was placed on display in the atrium of the Paisley Park complex in October 2016.
On August 21, 2016 Prince was posthumously inducted into the Rhythm and Blues Music Hall of Fame
Mike Tyson – Michael Gerard Tyson

Born Brooklyn, New York – June 30th, 1966 (53) Cancer
In 1986 at 20 years old he became the youngest heavyweight boxing champion of the world, garnering a 22-0 record – 21 of those fights won by knockout. Later that year he was given his first title fight against Trevor Berbick for the World Boxing Council heavyweight championship.
At 16 years old when his mother died he was left in the car of his boxing manager and trainer Cus D'Amato who later became his legal guardian
His first comeback fight grossed more than US $96 million worldwide, uncluding a US record $63 million for PPV TV. Viewing of the fight was purchased in 1.52 million homes, seeing both PPV viewership and revenue records. The 89-second fight was listed by TV Guide in their 50 Greatest TV Sports Moments of all Time in 1998.
In 2012 he launched the Mike Tyson Cares Foundation to "give kids a fighting chance" by providing innovative centers that provide for the comprehensive needs of kids from broken homes.
Louis Armstrong – Louis Daniel Armstrong

Born New Orleans, Louisiana – August 4th, 1901. Died Queens, New York – July 6th, 1971 (69) Leo
1936 became the first African American jazz musician to write an autobiography Swing That Music
1936 became the first African American to get featured billing in a major Hollywood movie with his turn in Pennies from Heaven
1937 became the first African American entertainer to host a nationally sponsored radio show
1922 he took Chicago by storm with his remarkably fiery playing and the dazzling two cornet breaks – the following year he earned his first recorded solo on Chimes Blues
Fromm 1925 to 1928 he made more than 60 records with Hot Five and later Hot Seven
In 1964 his comeback version of Hello, Dolly! Remained on the Hot 100 for 22 weeks, longer than any other record produced that year and went to No. 1 making him at 62 years, 9months and 5 days the oldest person ever to accomplish that feat. In the process he dislodged the Beatles from the No. 1 position they had occupied for 14 consecutive weeks with three different songs.
Sammy Davis Jr. – Samuel George Davis Jr.

Born Harlem, New York – December 8th, 1925. Died Beverly Hills, California – May 16th, 1990 (64) Sagittarius
Overcame prevailing racism to establish himself as an entertainer legend, becoming a successful comedian, actor, dancer, and singer
As a child joined his father and uncle in their dance group the Will Mastin Trio
At age 7 he played the title role in the film Rufus Jones for President in which he sang and danced with Ethel Waters
Skilled at fast and fancy gun spinning and shooting
Lost his left eye in a car accident in 1954
2017 was inducted into the Natonal Thythm & Blues Hall of Fame in Detroit, Michigan
Samuel L. Jackson – Samuel Leroy Jackson

Born Washington, D.C. – December 21st, 1948 (71) Sagittarius
During childhood had a stuttering problem, he learned to "pretend to be other people who didn't stutter" and used the curse word "motherfucker" as an affirmation word, he still has days where he stutters
Played the French horn, trumpet, flute and piccolo during school
Initally intended to pursue a degree in marine biology then switched to architecture
Attended the funeral of Martin Luther King, Jr. as an usher and then flew to Memphis to join an equal rights protest
Although Pulp Fictionwas Jackson's thirtieth film, the role made him internationally recognized and he received praise from critics - For the Academy Awards, Miramax Films pushed for, and received, the Best Supporting Actor nomination for Jackson. He also received a Golden Globe nomination and won the BAFTA Award for Best Supporting Role
Rhianna – Robyn Rihanna Fenty

Born Saint Michael, Barbados – February 20th, 1988 (31) Pisces
Was an army cadet in a sub-military program, where the later singer-songwriter Shontelle was her drill sergeant
Pon de Replay charted successfully worldwide, peaking in the top five in fifteen countries, including No. 2 on the US Billboard Hot 100 chart and the UK Singles Chart. Also peaked No. 1 on the Billboard Dance Club Songs
A Girl Like Me released in 2006 became certified Platinum by the RIAA after selling 1,000,000 units
Good Girl Gone Badhas sold over 2.8 million units in the United States alone, receiving a two-times-Platinum certification from the RIAA. It is Rihanna's best-selling album in the country to date. The album has sold 9 million units worldwide
Currently has 33 #1 hits
Drake – Aubrey Drake Graham

Born Toronto, Canada - October 24th, 1986 (33) Scorpio
Drake's 'Views' was iTunes' best selling album of 2016 and its no. 1 best selling single was 'One Dance' with Rihanna
Drake comes from a musical family, with a father—Dennis Graham—who was a drummer for Jerry Lee Lewis and an uncle who played bass for Prince
All of Drake's raps are typed out in his Blackberry before he records them in the studio
Drake's high school experience was one of isolation and feeling different. His high school was virtually all-white, and he's said that "nobody understood what it was like to be black and Jewish.". He also noted that being different from everyone else made him a lot stronger.
In 2009, Drake released his third mix tape, and the single "The Best I Ever Had" peaked at #2 on Billboard's Hot 100 Singles chart. "Successful", which was a collaboration with Lil Wayne and Treyz Songs went gold and made Rolling Stone's "25 Best Songs of 2009" list.
Bob Marley – Robert Nesta Marley

Born Saint Ann Parish, British Jamaica – February 6th, 1945. Died Miami, Florida – Mat 11th, 1981 (36) Aquarius
At the age of four, folks discovered that when Marley read palms , his predictions would come true. He stopped reading palms at age 7, however, when he decided to become a singer.
Shortly before his death from cancer, Marley received the Order of Merit from Jamaica. This award can be given to "any citizen of Jamaica … who has achieved eminent international distinction in the field of science, the arts, literature or any other endeavor".
In 1978, the United Nations awarded Marley a Peace Medal in recognition of his advocacy for "disenfranchised blacks around the world," - He received the medal from African delegates to the United Nations in a ceremony at the Waldorf Astoria Hotel in New York City.
The Marley family are carrying on the family legacy. His eldest son, Ziggy Marley, has won 8 Grammy Awards and been nominated 14 times, while his eldest daughter, Cedella Marley, runs the family business as CEO of Tuff Gong. From performing, charity initiatives, fashion labels, cookbooks, all his children have gone on to do great things.