Drumroll Please! Travis Barker Reveals His First Wax Figure At Madame Tussauds Las Vegas
Sunday October 22nd 2023
Travis Barker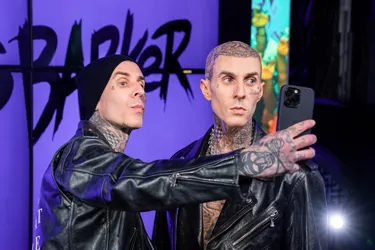 In an electrifying debut, Barker's new wax figure takes center stage, capturing every intricate detail of the punk rock sensation. 
'All The Small Things' That Make Travis Barker's Wax Figure A Legend
Named by Rolling Stone as "Punk's First Superstar Drummer," Barker's figure boasts an impressive ensemble, donated straight from the rocker's wardrobe. Dressed to impress in his signature all-black attire, complete with a leather jacket, boots, pants, and a studded belt, the figure perfectly embodies Barker's unique style.
The process of creating this wax figure was nothing short of meticulous. Barker collaborated closely with Madame Tussauds' creative team, ensuring that every tattoo, every ring, and every nuance of his look was replicated flawlessly. With more than 182 precise measurements taken, including his legendary tattoos numbering over 100, this wax statue is an unparalleled masterpiece. In Barker's own words, "I'm honored, I'm flattered, I'm shocked. It looks so f**king real."
All The Major Things That Make Travis Barker a Punk Rock Icon
Born on November 14, 1975, Travis Barker has taken the music scene by storm. Starting at an early age, Barker's time on the drumline during high school paid a major influence in his career aspirations, leading him to his breakout success as the dynamic drummer for the legendary rock band blink-182. Since then, Travis Barker has become a household name, leaving an indelible mark on the industry. Not just limited to Blink-182, Barker's musical prowess knows no bounds – he's ventured into hip hop, rap rock, and even alternative rock with his various collaborations.
His musical journey includes the release of his debut solo album, "Give the Drummer Some," in 2011, followed by collaborations with renowned artists such as Yelawolf, Asher Roth, and Nottz, not to mention his groundbreaking work with blink-182 and the Transplants. Barker's influence extends beyond drumming; he recently partnered with Elektra Music Group to establish his own record label, DTA Records, and has signed talented artists like Avril Lavigne and his son, Landon Barker. A proud family man, Barker's joy multiplies with the anticipation of welcoming a new addition to the family with his wife, Kourtney Kardashian, who has also been immortalized by Madame Tussauds Wax Museum.
Barker's creativity isn't limited to drumming alone. He's a fashion mogul, having founded the clothing company Famous Stars and Straps, and a published author, with his gripping memoir Can I Say: Living Large, Cheating Death, and Drums, Drums, Drums. Plus, he's a vegan advocate and a proud investor in the renowned Los Angeles vegan restaurant Crossroads Kitchen and his new line of organic, ethically-made vegan skincare, Barker Wellness. With a list of achievements that could fill a must-stream Spotify playlist, Travis Barker continues to inspire fans worldwide, leaving us eagerly anticipating his next groundbreaking musical endeavor.
Travis Barker's Wax Figure: Exclusively at Madame Tussauds Las Vegas
"We're thrilled to bring this legend to Las Vegas for everyone to enjoy, and in such detail – have you seen these tattoos?" exclaimed Marketing Manager, Linsey Stiglic, reflecting the excitement of fans and visitors alike. Madame Tussauds' talented studio artists have yet again demonstrated their extraordinary precision, ensuring that the Travis Barker wax figure stands as a testament to the musical legacy of this punk rock icon. 
Experience the magic up close and personal, and witness the artistry that brings legends to life! Check out his brand new wax figure at Madame Tussauds Las Vegas! #TravisBarker #MusicLegend #DrummingMaestror #MadameTussauds #LasVegas #WaxFigureMagic #MadameTussaudsLasVegas