Experience Holiday Magic At Tussauds Vegas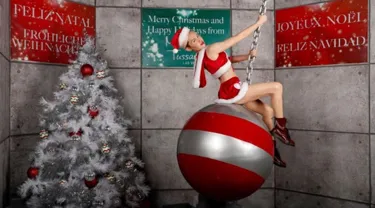 This holiday season we're merry and bright! Get the ultimate holiday treatment as we bring an array of jolly offerings for you to enjoy. Now — January 5, we will be decked with dazzling decorations and merry music, while hosting Christmas movies, specialty cocktails and more to bring cheer to you. We're even turning up the holiday spirit and opening our doors to local charity organizations for a week of giving and holiday fun. See below for all the deets!
THE POLAR EXPRESS™ 4D Experience®
Holiday joy starts with everyone's favorite Christmas movie, "The Polar Express" as we transform the 4D theater into THE POLAR EXPRESS™ 4D Experience®. It's an experience you will never forget as the holiday classic is brought to life through a multi-sensory journey featuring outstanding effects both on-screen and in theater, allowing guests to experience the magic in a whole new way.
A Holiday Toast
At The Hangover Bar, you will have the chance to re-create a scene from the famed movie "The Hangover," but in true holiday fashion. We're offering unique twists on holiday flavors for all to enjoy. With the Candy Apple Shot, the Peppermint Martini, and the Drunk Jack Frosty, which will also be offered as the Jack Frosty, a non-alcoholic option (for the kids in your fam!), The Hangover Bar will be the perfect destination to toast the holiday season.
Holiday Wax Hands
To bring the holiday experience home, we're transforming our wax hand station to become the ultimate holiday decorating destination. Create wax hand souvenirs but with a cheerful twist—from candy cane stripes to glitter and tinsel décor, you can create the perfect holiday decoration to commemorate a joyful visit Madame Tussauds Las Vegas.
Take A Selfie With Our Elfie
To bring the holiday experience home, we're transforming our wax hand station to become the ultimate h
A Week of Giving
Last but not least, as a way to give back to the local community, we will be welcoming children, families and guests from Sunshine Nevada Organization and St. Jude's Ranch for Children to Madame Tussauds Las Vegas for an unforgettable, complimentary experience kicking off Monday, December 9 — Friday, December 13.
This holiday season spend time with family and friends by creating a unique memory together, and make Madame Tussauds Las Vegas your new holiday tradition!