Get In Formation, Queen Bey Has Arrived
Wednesday November 13th 2019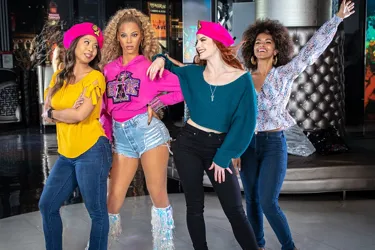 ALL NEW!
Strike a pose with the award-winning songstress as we bring Beychella to life. Clad in her hot pink hoodie, ripped denim cut-off shorts and iridescent fringe boots inspired by Balmain from her iconic 2018 Coachella performance, the "Single Ladies" singer will welcome you to slay the festival stage in Club T.
Beyoncé is known to be "***Flawless," and her figure is no different as she is seen popping her signature pose with one hand on her hip in true Yoncè fashion. Bringing her highness to life, our expert team of about 20 artists spent four months and over 500 hours to create the work of art filled with lifelike detail, no stage fan and special lighting needed.
To celebrate Bey's desert homecoming, we went all out to create an arrival fit for a queen. Stationed at a remote dry lake bed just outside of Las Vegas, local dance team Dynasty Dance & Step from Sierra Vista High School stood in formation with Sasha Fierce front and center to help welcome Bey to Sin City with a standout step routine reminiscent of the 2018 Beychella performance.
Join the Beyhive now and visit the Queen to snap a Beychella 2.0 photo with the selfie-approved figure at here at Madame Tussauds Las Vegas, flower crowns not included.
Check out the full video below!
Watch the Video