It's Real Wax Girl Sh*t! Madame Tussauds Reveals Two New Megan Thee Stallion Wax Figures
Saturday May 20th 2023
Megan Thee Stallion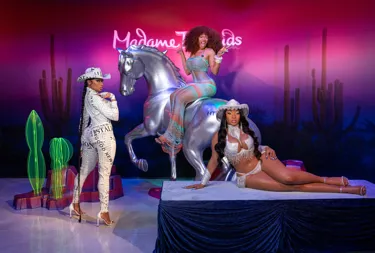 Three-time Grammy Award-winning rapper and singer-songwriter Megan Thee Stallion has officially welcomed her two wax figures at Madame Tussauds Las Vegas and Madame Tussauds New York. Extra, extra read all about it because her latest figure in Vegas is savage in a fierce newsprint catsuit and donated matching cowboy hat with fingerless gloves. The outfit was inspired by her photoshoot that promoted the debut of her critically acclaimed album, Good News. Megan's New York figure bodied that, ate it up and gave it back, as she's posed on her side laying down in a donated diamante bikini and matching cowboy hat, gauntlets and choker. The look was inspired by a recent brand partnership. The new figures were revealed at Madame Tussauds Las Vegas on a colorful and interactive set featuring a magical, metallic 10-foot stallion.
"Look at those hotties! My wax twins are looking hotter and badder than ever," said Megan Thee Stallion. "Thank you Madame Tussauds for the honor!" 
Originally from Houston, Texas, Megan first gained attention with her freestyles on social media. Best known for her confidence, sensuality and lyrics that express body positivity, race and sex, Megan Thee Stallion has produced iconic hits including "Hot Girl Summer," "Savage," "Body," "Thot Shit," and her infamous feature on Cardi B's "WAP." Throughout her career, the singer-songwriter has received numerous awards and recognitions. She became the second female rapper to win Best New Artist at the 63rd annual Grammy Awards. She has also received six BET Awards, five BET Hip Hop Awards, four American Music Awards and was named one of Time's 100 most influential people in the world in 2020. Outside of music, she is known for her philanthropic work and her dedication to education as she is a recent graduate from Texas Southern University. 
"We couldn't have hoped for more 'Good News' than the addition of not one but two Megan Thee Stallion wax figures into our Las Vegas and New York attractions," said Madame Tussauds Head of Marketing Matthew Clarkson. "Everybody here at Madame Tussauds loves her music, confidence, style and star power which serves as an inspiration to so many."
"When you being real, you ain't worried 'bout who fake," and in this case it's tough to pinpoint the wax from the real deal. A team of about 20 skilled artists took approximately six months to recreate Megan's likeness in each of her new wax figures. At the sitting, more than 200 measurements were captured to ensure 100% accuracy. Her eyes, hair and skin were also color matched from samples. Then, 10 layers of oil-based paints were applied to the figures to create realistic skin tones. In fact, real human hair was individually inserted into the wax including the eyebrows and eyelashes. The hair was then cut and styled to match the desired look. Megan's figures then went through a rigorous amount of critiques with key members of the team to achieve sign off before appearing in the attraction. 
Megan Thee Stallion's figures will be available to the public exclusively at Madame Tussauds Las Vegas May 20 and Madame Tussauds New York beginning May 29.