It Won't Be "Un Verano Sin Bad Bunny" in Sin City Anymore - Benito Is In Vegas!
Tuesday April 18th 2023
Bad Bunny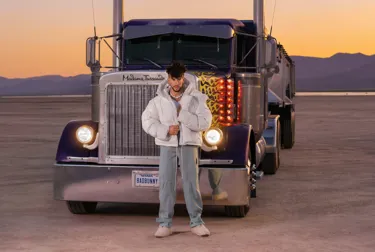 Three time GRAMMY award-winning, multi-platinum, international icon Bad Bunny's latest wax figure has arrived at Madame Tussauds Las Vegas. The figure's outfit, hair and jewelry replicates Bad Bunny's look from the 2021 American Music Awards. Bad Bunny's latest figure was inspired by the 'El Último Tour Del Mundo' album cover - set in the desert, the Latin superstar's wax figure can be seen in front of a purple semi-truck decked out with flames. 
"We're revealing Bad Bunny's figure today to not only celebrate his 11 nominations for the upcoming Latin American Music Awards, but to congratulate and honor him for being the first latin artist to headline Coachella," said Gabriel Hewitt, General Manager for Madame Tussauds Las Vegas. "He's having such an incredible incredible year and we're excited to be a part of his success by revealing his third figure." 
Admired for his willingness to think, speak, and dress outside of the box and loved for his ability to create music that moves millions, Bad Bunny, born Benito Antonio Martínez Ocasio, is a singer, rapper, and songwriter who helped bring reggaeton and trap music to a wider audience. He rose to prominence in 2016 with his song 'Diles,' which led to a deal with Hear This Music. Since then, Bad Bunny has climbed the charts thanks to hit songs like 'La Cancion' and 'Dime Si Te Acuerdas,' and collaborated with major artists to create radio hits like 'Mia' featuring Drake.
The fabulous new figure took approximately six months to create by a team of twenty London-based artists. Hundreds of videos and images were analyzed to capture and craft every single feature, including hair color and texture, eye color, skin tone, nail shape, and more. Madame Tussauds is the world's greatest wax museum with no ropes or barriers holding guests back from meeting their favorite celebrities. They continue to highlight idols and icons in mind-blowing accurate detail in a life-like persona. Bad Bunny's latest figure will be available to the public exclusively at Madame Tussauds Las Vegas beginning April 18.