Music Icon Missy Elliott Is Supa Dupa Fly As New Wax Figure Debuts at Madame Tussauds Las Vegas
Thursday November 3rd 2022
Missy Elliott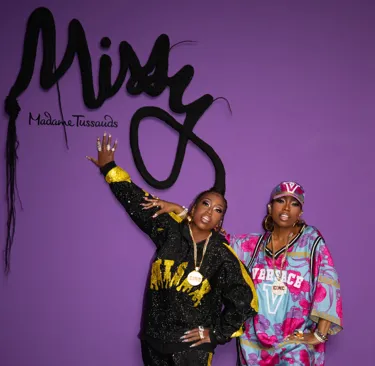 Missy Celebrated this honor with an intimate group of friends and family. The figure is a recreation of her legendary appearance at the 2019 VMAs. For over 25 years, Missy has captivated her fans with her mind-blowing music and videos, and it's only fitting that she is now immortalized. Leading up to her figure reveal, Missy called on her fans to step up to the Instagram #CoolOffChallenge, inviting guests to lose control and work it with their best dance moves. Handpicked and curated by the Hip-Hop goddess herself, the top dance submissions are featured in an interactive experience at the Las Vegas attraction. 
Missy Elliott's wax figure features the First Lady of Hip-Hop in a glamourous tracksuit with intricate hand embellishment along with her prized Versace sneakers – all donated by the artist herself. To get her look, Madame Tussaud's team of 20 London-based studio artists needed 6 months to go over approximately 200 measurements and photographs from Missy's sitting to capture her exact features, including replicating her tattoos and 10-foot long hand braided hair. The figure is complete with her signature gold earrings and necklace. 
"I am beyond excited to welcome my very own wax figure to Madame Tussauds Las Vegas. It's an honor to have the Iconology album play a part in this experience- this is a dream come true!," said Missy Elliott.
"Missy Elliott's new wax figure and interactive experience gives her worldwide community of passionate fans an exciting way to interact with her like never before," said Gabriel Hewitt, General Manager of Madame Tussauds Las Vegas. "Together with her, we've created an experience that embodies her energy, personality and barrier-breaking entertainment style."
To commemorate this special moment, guests toasted to Missy Elliott's new wax figure and legendary career with PATRÓN Tequila's latest expression - PATRÓN EL ALTO. During the reveal, guests also enjoyed PATRÓN specialty cocktails like Miss E, So Addictive, Under Construction, and This is not a test! - with PATRÓN Silver, PATRÓN Reposado, and PATRÓN Anejo, each demonstrating the versatility and range PATRÓN Tequila has to offer.  As PATRÓN reaches new heights with the release of PATRÓN EL ALTO, the brand is excited to continue celebrating Missy Elliott and honoring her legacy. 
Missy Elliott is a living icon. For three decades, she's been directing the global soundscape, visually reinventing herself and redefining pop music. Missy's career is multifaceted, as she's charted new creative territory through songwriting, rapping, singing, and producing, with style and grace. Her influence is broad - Elliott has inspired or collaborated with a number of heavy hitters, including Janet Jackson, Mariah Carey, Beyoncé, and the late Whitney Houston. No matter the time, her music and videos are always relevant, making her a cross-generational rap star with enough talent to keep her legacy alive for eons.