Tiffany Haddish Pranks Guests in a Surprise Reveal of Her New Wax Figure
Wednesday September 15th 2021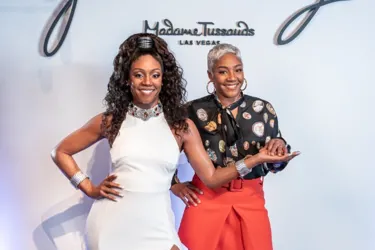 SHE READY! After months of meticulous work by a team of talented studio artists - actress, comedian and author Tiffany Haddish revealed her new wax figure at the must-see attraction on the Las Vegas Strip, Madame Tussauds. During the reveal, Haddish disguised herself as a 'Selfie Specialist' while wearing a Madame Tussauds uniform and interacted with unsuspecting guests as she took pictures of them with the new Haddish wax figure and asked their opinion of it.
Haddish's figure is wearing a dress inspired by her look during her Saturday Night Live performance where she donned her favorite Alexander McQueen dress. It's the same dress she wore when she presented at the 90th Academy Awards, as well as on the red carpet for Girls Trip. The outfit holds special meaning for Haddish as an emblem of her fight back against the taboos of wearing a dress multiple times. She hilariously recalls the dress costing way more than her mortgage, and that she was going to get her money's worth.
"I had a blast surprising guests during the reveal of my new wax figure," said actress and comedian Tiffany Haddish. "It was a perfect way to interact with guests while getting their hilariously honest opinions of the figure. I am so honored to be featured in Madame Tussauds."
Haddish's wax figure included more than 150 precise measurements to create true to life portraits of her features. Her teeth, hair and eyes were each color matched by studio artists and were used as a reference during the creation of her figure. It's well-known this "queen of Groupon" loves a good bargain, but Madame Tussauds Las Vegas didn't skimp when it came to figure quality; it cost about $300 thousand dollars and took nearly six months to bring her wax twin to life.
She is admired by many around the world for her comedic presence on and off the big screen and her deep influence is accurately personified at the famous Las Vegas interactive attraction as one of the first faces fans see when they step on to the red carpet.
Check out the video below to see our 'Selfie Specialist' in action!